3D Character Production Techniques
Jeremy Laurent did a wonderful breakdown of his Female Assassin character, showing how he did the sculpt, worked with the hair and did the materials.
Intro
My name is Jeremy Laurent, I'm a French character artist, and I'm living near from Paris. I started the 3D  as a self-taught during 1 or 2 years, after I studied it in a school "New 3d general education", where I discovered Zbrush. After that, I worked mainly at Cyanide Studio on projects like Styx: Shard of darkness.
So let's talk about my last character…
With each of my personal works, the main goal is to have some fun of course, but not only. I wanted on this character to improve my female anatomy, my skills in Marvelous Designer, and worked on a new process for hair and fur, with a little bit of hard surface to practice it too.
First, the body
I started with dynasphere and I separated each part of the body for more control, then I merged each part together and I dynameshed it. When I think I have a good base, I use zremesher to clean my topo and begin to subdivide my mesh. Then I'm refining it. After that, I retopo and unfold my UVs in 3dsmax. Finally, I have to project the old mesh on the new mesh in ZBrush. And then I'm refining it again.
For organic sculpting, I mainly use 3 brushes: Move, Dam Standard, and the Clay build up with the alpha 48.
I really don't have any special technique for refining my model, just tweak it again and again to have something good.
For a female face, I like to draw few details like makeup, lip, eyebrow, it helps me to visualize, feminize her. Feel free too to add hair, eyelash to feminize her more. 
Now I have a quite nice body. I have to start the blocking. At this stage, I already had an idea of what I want.
I start in Marvelous Designer for the clothes, then in ZBrush, I place simple shape to block my design.
Marvelous Designer 
I started with a simple shape as always and complexified my pattern. Be sure to block your shape before adding details because it will be difficult to go back. The most difficult thing in Marvelous for me is to feet the clothes on your model and manage folds, it demands a lot of tweaks.
So once time my patterns are good I have to export them.
For a better result, I will double my patterns. For this, I select all my patterns and freeze them. After that, right-click, and select «layer clone (Over)». Remove the linked editing on the clone and pass the Shrinkage Weft and Warp to 102%. Then select all patterns again and set the particle distance to 5. Finally, unfreeze all and start «Simulate». Once it's done, I quadrangulate and export the other part.
Sometimes I zremesh my subtool, and I use the panel loop to create the thickness, then I crease border not to have too many holes when I subdivide.  After that, I clean the hole remaining with the brush «Move topological».
Now here is the sculpting part, where I add and/or accentuate some folds with standard and Dam standard brushes. I add seams, tear and other little details. But not fabric fiber which I will add in Substance Painter.
Let's talk about the weapon!
For this character, I did almost all the high poly work in Zbrush, even weapons. I use the zmodeler for simple shapes and boolean for complex shapes. After that, I add some details with alpha and mask.
Boolean process
Before going to Painter, I retopo, unfold my UVs and bake my mesh.
I bake my normal map, ID map and ambient occlusion in Xnormal, then I make my curvature map from the normal map in Photoshop. After I import all in substance, Bake the other Map mostly the thickness of the skin.
Substance Painter
I create a folder for each material and add a mask to select the mesh area.
Then I build my shader in the folder. Almost all my process in Painter is based on fill layer and mask, it's quite a procedural process an let me change everything I want and when I want, really powerful to design and also in production.
Firstly, I add a fill layer in my folder which will be my base layer, to set my base shader. After that, I use the procedural «Fibers 2» which I put into the height and color maps. Then I add some other patterns to highlight and darken some parts, and then add stitches and dirt.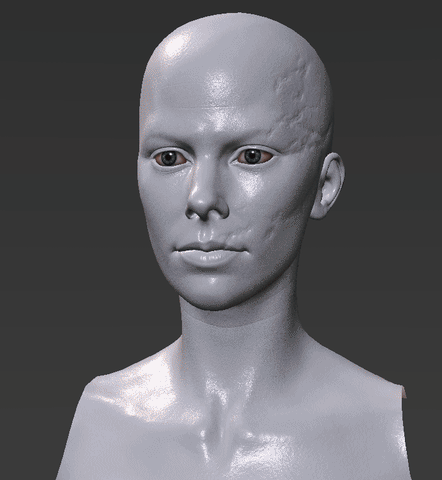 I start as always with a fill layer for my base layer, except I put a skin texture into the base color channel. Then I add a noise in my color map in softlight. After that, I mask an orange fill layer with my Ambient occlusion inverted, repeat this with purple/blue layers. And don't forget to play with the opacity. I do the same thing with my Curvature map with a reddish layer to colorize a bit and mostly increase the roughness in the skin pores, that's why I prefer to make my curvature map in Photoshop because it is thinner. At this stage, my texture is rather flat, so I tint my skin with some red yellow and blue colors. I begin to put some details like freckles or lipstick. Then a little color adjustment. For this, I use the filter «Hsl perceptive».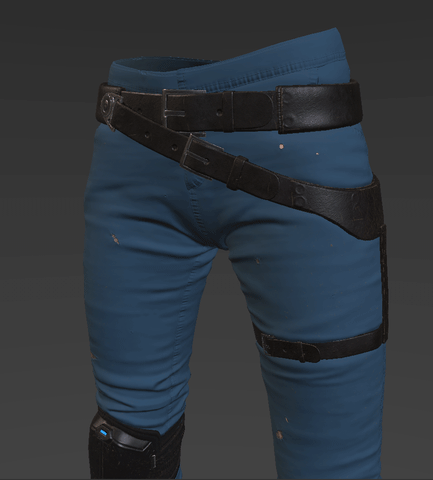 For hair and fur, I follow this tutorial.
Rendering
Almost all my stuff is rendered in Marmoset because it's a great tool, easy-to-use. Nothing is really difficult for shaders of props and clothes, I just plug my maps and tweak a bit the sliders if I have to
Don't be afraid to test something and use all the slots available.
For example, I add a fuzz map for all fabric parts.
For the skin a add the thickness map which I invert and colorize in orange in the translucency slot with the Subsurface Scatter shader in Marmoset.
The eyes have the same shader as the skin, but more glossiness and I put Parallax for a better look.
The lighting is really important when setting up the final result. I always begin by choosing my HDR. Then I place my lights.
I follow the studio lighting used in Photography which I adjust to my character. Here I have 4 lights: one main light, one fill light, and 2 backlights.
They are all important. The main light lights my character, the 2 backlights detach my character from the background and the fill light gives some detail in the shadows.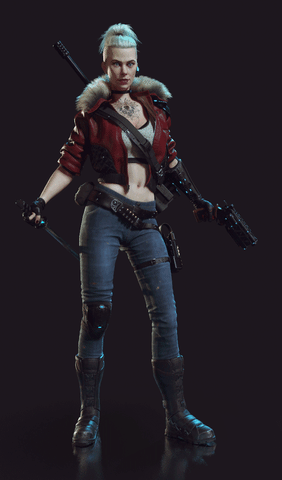 I colorize my lights to have a few variations.
When my lighting is done, I have to set cameras. I like to play with the curves to adjust a bit the color, give a mood, some contrast, to the final render. I add some vignette and a bit of sharpening.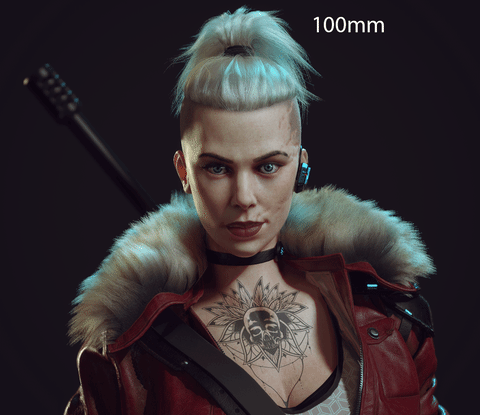 Rendering character is like making a portrait in photography, the lighting is important but we have to remember the focal length. So for each of my frames, rather than moving my camera with the same focal, I set my focal length for what I want to do. So for portraits or close-ups, I set a high focal length: 100mm, not to deform my character and for stand-up render, I set my focal to 35mm.
Interview conducted by Kirill Tokarev