Vendors
Weekly Newsletter
Thank you for subscription. You'll be getting weekly digest every Friday.
Events
Marina Del Rey US
10, Dec — 13, Dec
Las Vegas US
8, Jan — 12, Jan
Zürich CH
31, Jan — 4, Feb
Leamington Spa GB
31, Jan — 3, Feb
Latest comments
hello Alexander, I really loved your these draw works. I loved cathedrals too.I started 3ds Max new. And I really really want to meet you, if you wanna to do. By the way, my name is Duacan, from Turkey. also Im working for learning and speaking German. Cause Deutschland is the my first country for living. Whatever, take care yourself, Tschüss. insta: 06optimusprime06
nice blog but here is the thing, what is wrong with overlaping uv's and mirroring them, what are the cons of overlapping them and why is this method better in the case of uv? thanks
Thank you @Fcardoso The volumetric light is available in the latest 2018.3 beta. In the visual environment setting, there is a new option to select Volumetric light fog. The screen I shared is from 2018.2 during that time I was using a script to enable it :)
Brushify: Creating a 64km² Terrain in UE4
We've recently published an interview with Joe Garth about Brushify, the artist's terrain library with 8k res meshes and terrain Alpha brushes that lets artist build high-quality landscapes directly in UE4. Joe has recently shared a new video guide to help users master the toolkit. 
"Brushify is a next-generation terrain library. It contains high-resolution terrain created from real-world data. Terrain packs are available as modular environment packs for Unreal Engine 4 and source assets are available on Gumroad and Sketchfab. They come with unique 3D mountains that can be used to build 3D landscapes and game levels quickly and effectively."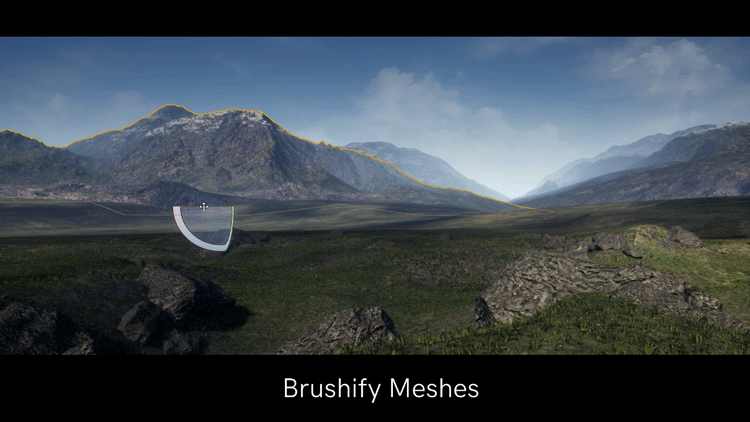 Here is the guide to generating a 64km² terrain in Unreal using the library:
"Create a 64km² terrain in Unreal Engine 4 using Brushify! You can purchase the Brushify Grasslands pack here."
Make sure to share your thoughts on the guide and Brushify's possibilities in the comments below.