Vendors
Weekly Newsletter
Thank you for subscription. You'll be getting weekly digest every Friday.
Events
San Jose US
17, Mar — 22, Mar
San Francisco US
18, Mar — 23, Mar
San Francisco US
18, Mar — 23, Mar
York US
26, Mar — 29, Mar
Latest comments
Doesn't they say the same thing about photography when it was emerging? ;)
Agreed. This is just depressing and is a detriment to society. If this keeps advancing at its current rate, good art will be so trivial to generate that it won't be special anymore. Art will slowly morph into a banal distraction, with creating an original piece being as easy as applying an Instagram filter. The role of the human artist will change from a craftsperson to someone who picks a bunch of parameters, gives it to the AI, and chooses the best output. This type of technology is a threat to the very existence of art as a craft, will completely devalue artwork, and will make the journey of training to become an artist obsolete. I hate these researchers for what they're doing to a field that I love.
I disagree. There will always be demand for real artists. Like any other digital software, this is just a tool with the possibility to help artists create compelling worlds faster and add realism that would otherwise have taken days to make using other methods. As a 3D character artist, I would love to use this to create quick backdrops to place my characters in to enhance final renders.
Ornament Trim Brushes for ZBrush
Check out a nice set of 60 ornament trim brushes for ZBrush by Jonas Ronnegard. The artist states that all brushes use 2048×2048 16-bit alphas with PSD, Tiff, PNG alphas included.
This is a set of 60 Ornament trim brushes for ZBrush, all brushes use 2048×2048 16-bit alphas, PSD, Tiff, PNG alphas are also included. These brushes should also be able to be used in Substance painter in the close future, customers will get access to this automatically and will receive an email about it.
Contents
60 ZBrush brushes.
PSD, Tiff, PNG alphas.
All alphas 2048×2048 – 16bit.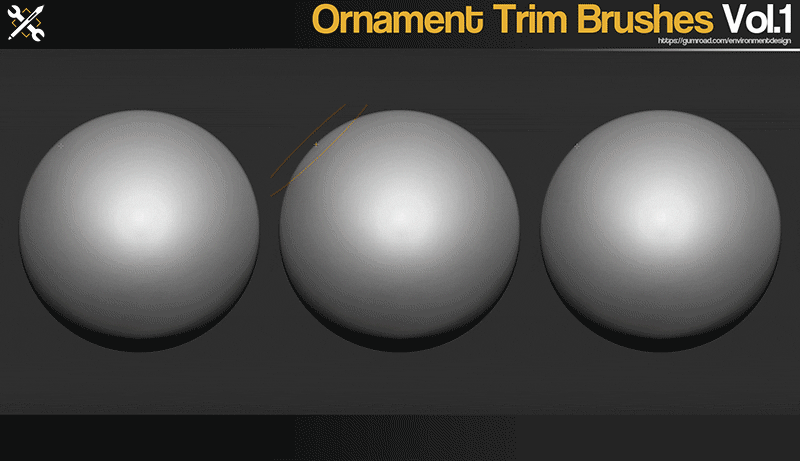 License Info
Commercial use of the Brushes/Alphas are permitted but the alphas or brushes themselves can not be sold or shared and must be embedded components in media such as a video game, movies etc.
You can get more details here.