Vendors
Weekly Newsletter
Thank you for subscription. You'll be getting weekly digest every Friday.
Events
Las Vegas US
8, Jan — 12, Jan
Zürich CH
31, Jan — 4, Feb
Leamington Spa GB
31, Jan — 3, Feb
Bradford GB
6, Feb — 11, Feb
Bradford GB
7, Feb — 9, Feb
Latest comments
Great breakdown of the process and optimization, thanks for sharing.
This article just not only provides great tools for level design. It's also useful vocabulary to express ideas with our team. https://xbeasts.blogspot.com/2018/12/Remove-Wall-Decals.html
Very well presented article. Thank You http://printingheaven.strikingly.com/blog/standard-movie-poster-size
Ornament Trim Brushes for ZBrush
Check out a nice set of 60 ornament trim brushes for ZBrush by Jonas Ronnegard. The artist states that all brushes use 2048×2048 16-bit alphas with PSD, Tiff, PNG alphas included.
This is a set of 60 Ornament trim brushes for ZBrush, all brushes use 2048×2048 16-bit alphas, PSD, Tiff, PNG alphas are also included. These brushes should also be able to be used in Substance painter in the close future, customers will get access to this automatically and will receive an email about it.
Contents
60 ZBrush brushes.
PSD, Tiff, PNG alphas.
All alphas 2048×2048 – 16bit.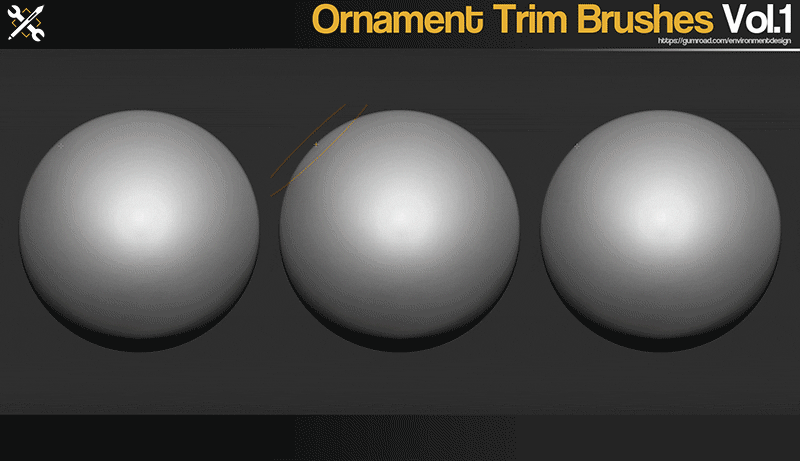 License Info
Commercial use of the Brushes/Alphas are permitted but the alphas or brushes themselves can not be sold or shared and must be embedded components in media such as a video game, movies etc.
You can get more details here.