Vendors
Weekly Newsletter
Thank you for subscription. You'll be getting weekly digest every Friday.
Events
Utrecht NL
29, Jun — 30, Jun
Brighton GB
10, Jul — 13, Jul
Brighton GB
10, Jul — 13, Jul
Cambridge GB
13, Jul — 17, Jul
San Diego US
19, Jul — 23, Jul
Latest comments
This is great websites, I visited some of them but I didn't know that Google offers free games.And this is I play free flash games in this websites. zombs royale game
This is an amazing walkthrough. Thank you so much for the step by step and what you used. I've been looking for something like this exactly, especially since I'm all self taught and am kinda stuck with a proper pipeline/workflow.
Somerville: Dark Story of an Alien Invasion
We often meet people from the animation and VFX industries moving into game development. Chris Olsen was bitten by the 'game bug' as well, so he started his own little indie project called Somerville. Chris worked in a number of studios, including Animal Logic, The Third Floor, Inc, Passion Pictures and Ninja Theory (where he animated Heavenly Sword), where he perfected his craft.
Every frame of Somerville literally screams 'animation'. Even at the basic prototype stage it moves like some of the best games in the genre, reminding of Heart of Darkness, INSIDE and Another World ('Out of This World' in US) by Eric Chahi.
Somerville is an episodic cinematic platformer with shooter mechanics. Chris mentioned a lot of influences, which shaped the project, including shooters from Japanese company Treasure, rhythm action games, adventure titles, videos by Daft Punk and Kentucky Route Zero, which was a great influence in terms of rendering style. The game is divided into a number of narrated chapters, which tell a story of John E. Somerville. This guy is a key figure that rose from the wake of a devastating alien occupation of Earth.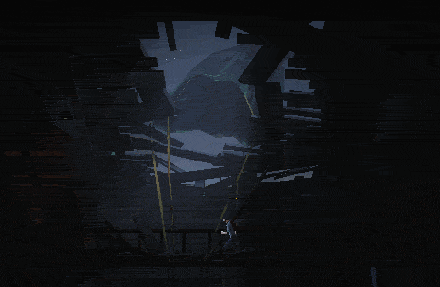 Somerville's look came from an idea of testing the 2D effects out in 3D space (something like Guilty Gear X by ArcSystemWorks). This experementation helped to create a very peculiar look, which brings out the best in Chris'es animations. The characters and enemies move smoothly, almost like in the movies. The level of animation quality you see in Somerville is just insane.

Chris also works with color in a way, similar to that of PlayDead. Everything is pretty grim and dark, with lots of grays and blacks, but the enemies and various effects are all bright and have an almost neon-like quality to them. Chris says that Tron: Uprising was a big inspiration in terms of light usage.
Coming from the animation background Chris first got some help from a friend with coding. However, later he decided to do it himself, working on the coding with Unity, because he thought he was missing on a lot of interesting knowledge.
The assets are pretty minimalistic low poly, so the production is not that difficult. Though, it's still not easy to balance day job and indie production. Right now Chris explores various options to get more funding, Kickstarted being one of them.
The game is supposed to be available for PC, but there's a chance it will make to consoles as well. No concrete details for now, but we do expect to see a trailer in the nearest future.