Vendors
Weekly Newsletter
Thank you for subscription. You'll be getting weekly digest every Friday.
Events
Krakow PL
27, May — 29, May
London GB
28, May — 31, May
London GB
4, Jun — 6, Jun
Latest comments
the download links gives a 404 error...
If you are search that from where is my clipboard in windows 10 then i have seen that from the google i have collect all the information because it is the right place that you know very clearly.
Stylized Cat House Production

Introduction
Hi everyone, I'm Corentin ITAN also known as Icore. I am a freelance 3D artist from Montpellier, France.
I've been interested in 3D modeling since 2011, the year I started my degree in Graphic Design. After my studies, I had a chance to work in a startup creating apps in 3D, in which I mostly worked in small VR scenery. After two years I decided to gain my own freelance experience as a 3D artist while working on personal projects like the one this article is about.
Cat House Project
I pushed myself out of my comfort zone and started to experiment the hand-painted workflow of Substance Painter and Designer and stylized sculpting in ZBrush.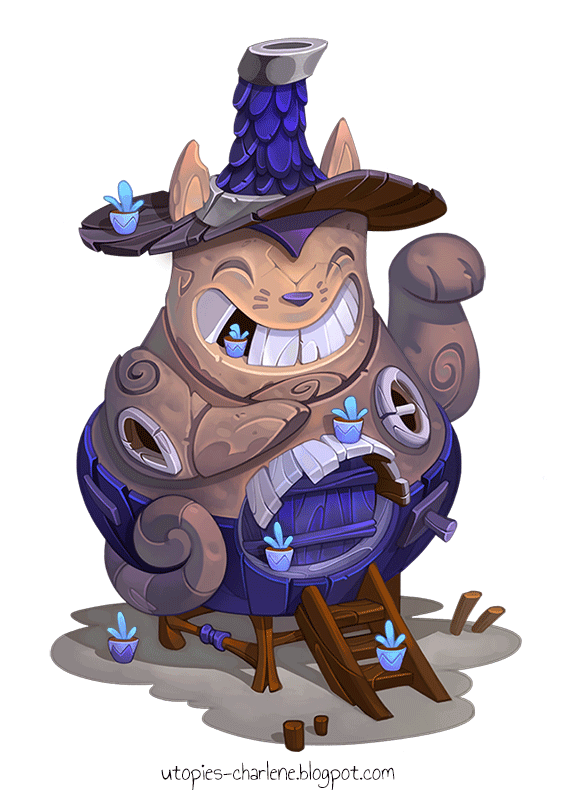 First Steps: Mesh
The first step of this project was done in Maya. I wanted to have a strong base on which I could sculpt without having to struggle with the main structure of the mesh.
I used the old school Sub Division technique to create a nice smooth mesh. Most of the little holes were made using booleans and I then cleaned up the geometry for a better smoothing.
During all this process I duplicated some parts of the basemesh (before any bevel) in order to use it as a base for my low poly.
For the slates on the roof, I tried the newly implemented MASH plugin (Maya 2018). It gave me a quick layout and I then tweaked them manually to add randomness.
Details
I then exported the mesh into ZBrush in order to add details. I used the PBR workflow for the texturing of my piece in Substance Designer so I had to have a good normal map in order to bake all the needed maps.
However, since I wanted to keep a stylized, hand-painted feeling I didn't push the detailing too far. So I mainly focused on large cracks and edge chipping.
Small crack sculpting: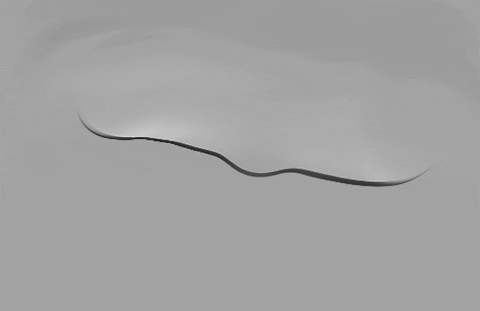 Large crack sculpting: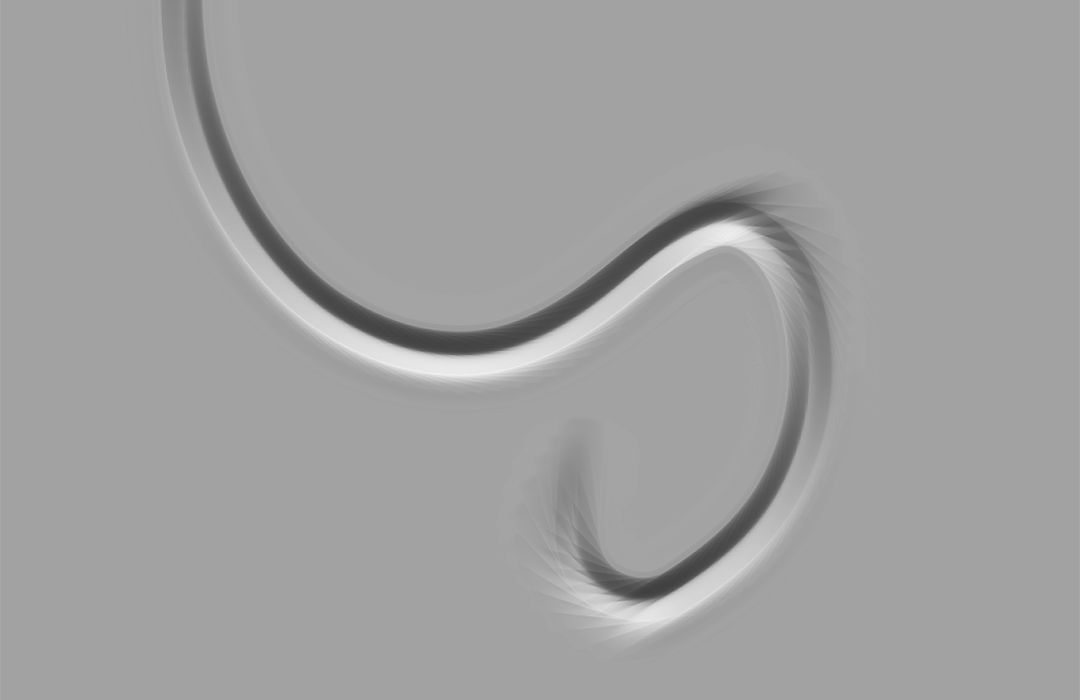 Most of the cracks were created using Orb Cracks Brush (a must-have) with Lazy Mouse and then refined with Trim Dynamic, Hpolish, TrimSmoothBorder and ClayBuildup.
Planks sculpting: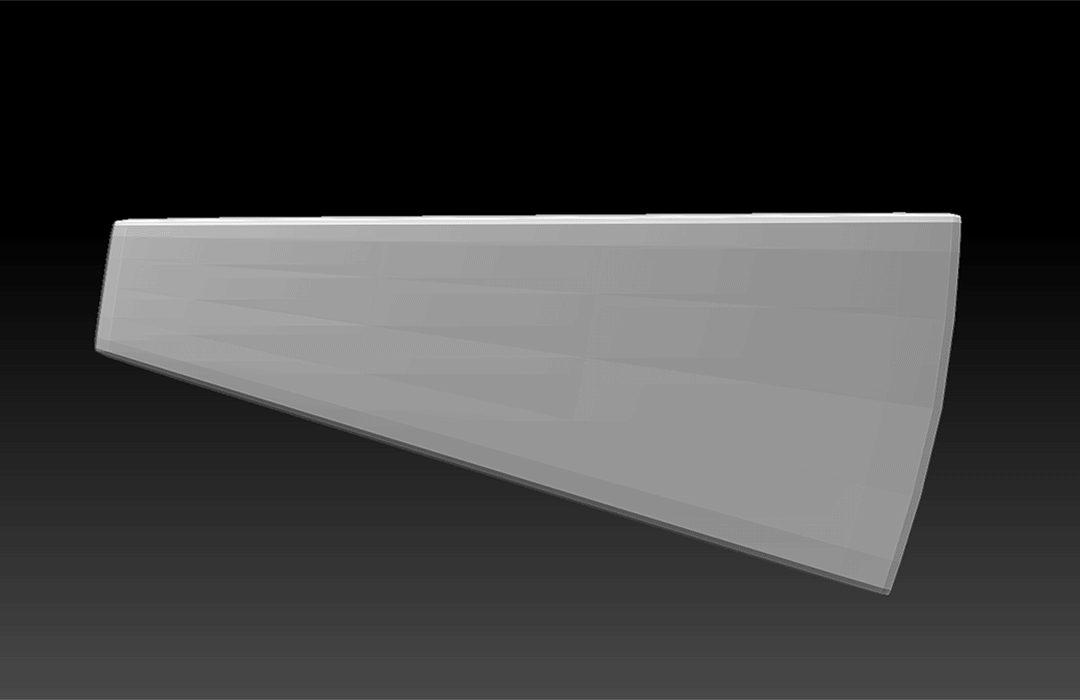 The main shapes of the planks were defined using GroupsLoops (after creating new Polygroup) and then refined with Move Tool, Trim Dynamic, and Hpolish.
Materials
Most of the retopo was done in Maya using quad draw and some parts of the basemesh to speed up the process.
The Baking was done in Substance Painter using a cage and "matching by name" for a better result. The whole house is composed of one set of 4k maps.
It was my first time trying to do a hand-painted style in substance so I had to adjust my workflow. Since there is no color palette built-in in substance painter, I used multiple fill layers and painted in masks. It gave me a lot of control because I could change any color to fit the overall aspect of the scene. The principal problem regarding this technique is that the size of your project's file tend to be a lot higher due to the number of layers.
The plaster part is a series of different color variations, on top of that I added a red fill layer with the Ambient Occlusion as a mask (for better contrast) and a Level for better color tweaking.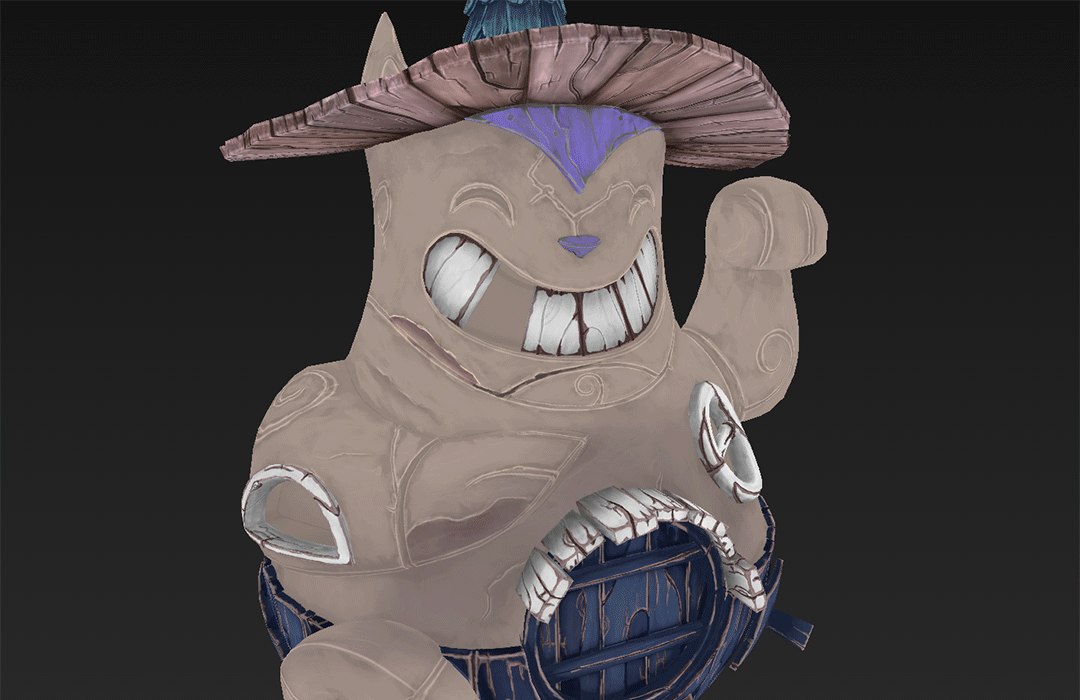 The wood part is composed of different layers for color variations. the small cracks are painted in a different layer with a negative height value to add more coherence and details to the normal map.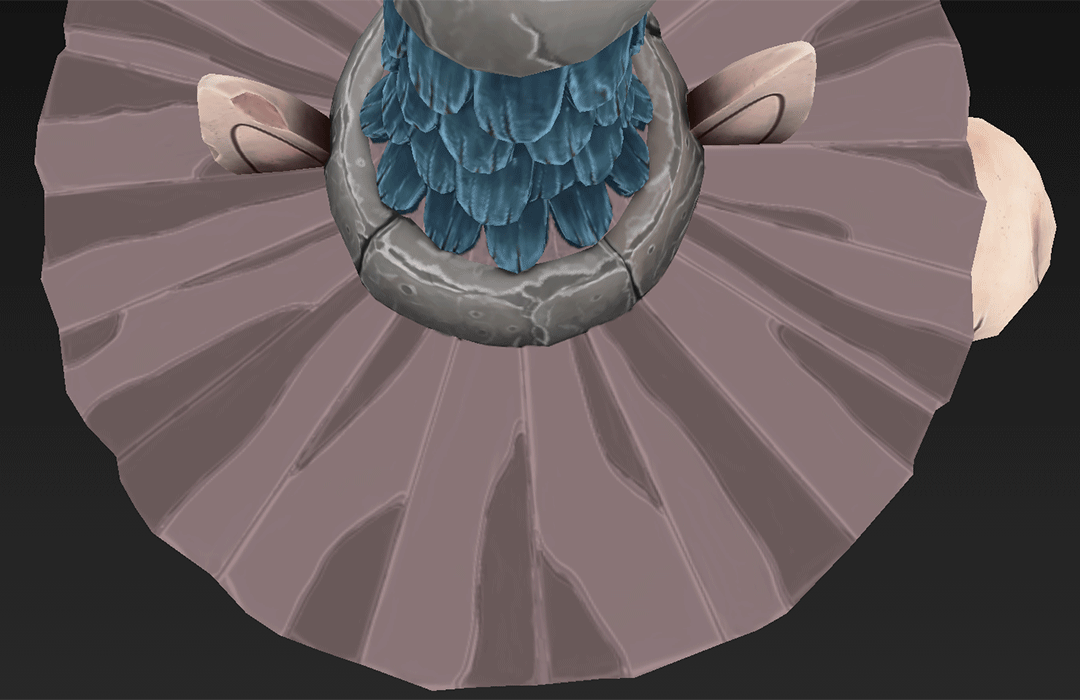 Same with the painted wood. Moreover, I added paint strokes and paint drops using the same technique as the cracks. I created the alpha of the paint drops in ZBrush.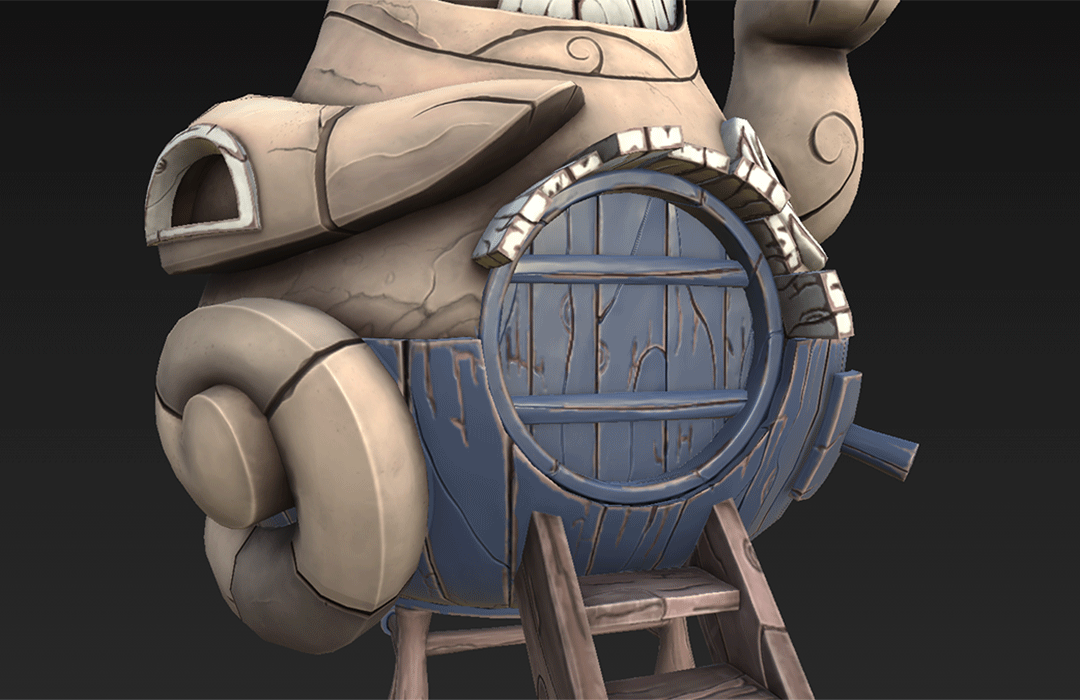 Cracks
All the damages/cracks in the plaster are again fully done in Substance using the height channel to add more details in the normal map.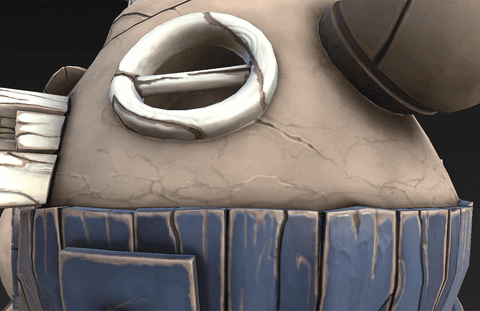 Stones
The stones on the ground were sculpted in ZBrush. I used the curvature I baked in substance for the base of edge highlight and then painted some variations. I picked the same mask for the roughness layer that I blended with a grunge map.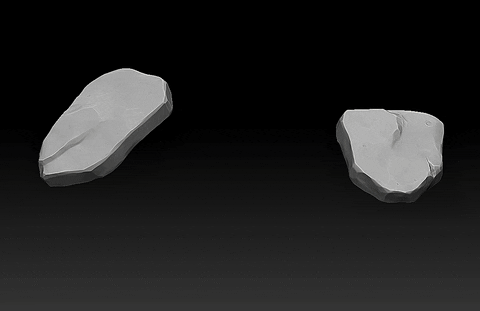 Foliage
I used Photoshop and Illustrator to create and paint the foliage texture, creating the basic shapes of the foliage with illustrator and simply pasting it into photoshop to add details. I then used the xNormal plugin to create a basic normal map by blending different layers, each one with a new level of blur (overlay without blue channel).
I created the planes in Maya and tweaked the vertex normals in order to make them point up for a better shading while double-sided. After that, I duplicated the different grass patches on the ground mesh using the live object.
As an afterthought, I could have added some variety to the grass using more variety in their color, and maybe another type of grass in order to add more randomness in the overall shape of the grass patches.
Feedback
This project was really fun to make, especially the texturing part since it was a brand new workflow for me. It was also the part on which I struggled the most because it took me some tries in order to find the right colors using a lot of references and finding a good art style that could fit the concept.
If you want to see more of my projects feel free to check my Artstation / Sketchfab.