Vendors
Weekly Newsletter
Thank you for subscription. You'll be getting weekly digest every Friday.
Events
Milwaukee US
17, Jun — 22, Jun
St. Petersburg RU
19, Jun — 21, Jun
Amsterdam NL
25, Jun — 28, Jun
Los Angeles US
25, Jun — 28, Jun
Latest comments
Hello ! I am a video game student @ILOI & I am very thankful, your speech is very motivating .
Except the dude clearly doesn't know much of anything about the 3D game pipeline. Yeah, if you're very skilled, a high poly sculpt could, certainly. But then there's retopology, UV mapping, texture baking, rigging, animating, other means of optimization once imported into the engine. Granted it wouldn't take anywhere near the production time of a AAA character (Which the High-poly sculpt took maybe 10-15 hours altogether, but the finished character took ~94 hours). And granted pokemon models aren't nearly as complex as that, but I think at least a 1-3 hours from start to finish to be a fair average expectancy of artists who know the work flow well enough. I just hate how people are so critical of artists when they clearly don't understand what goes into it.
Deus Ex: Mankind Divided - Sculpting Characters
The final part of series about Deus Ex: Mankind Divided will give you a glimpse at the production process behind Prague's augmented characters. Character artist Frederic Daoust gave us some details on his work with hard surface augemtations and organic parts and discussed his approach to designing mechanical details.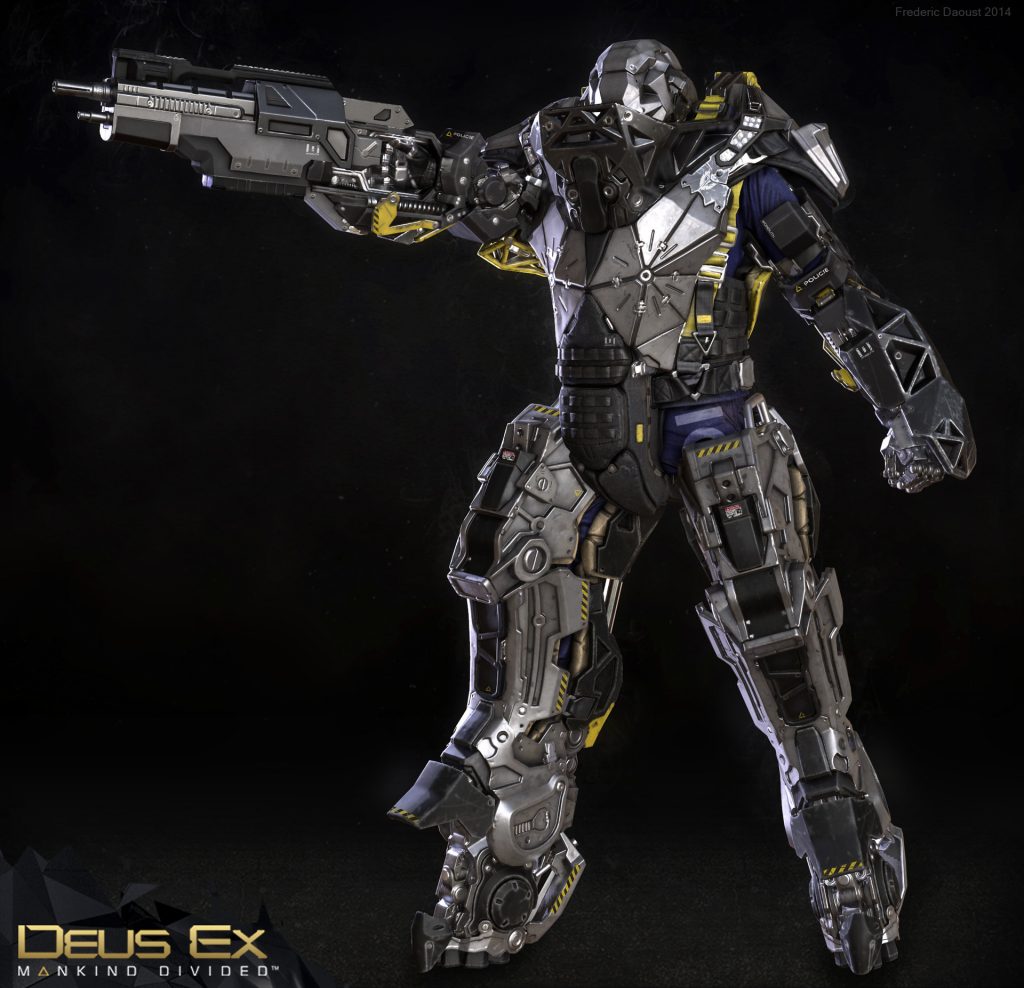 Introduction
I started studying Video Game Art back in 2011 at a school named Inter-dec in Montreal.  After 3 months I dropped out of the school and decided to focus on learning Character Art online with tutorial videos and Polycount. I also had a lot of help from my friend Marco Plouffe, who helped me a lot from the beginning.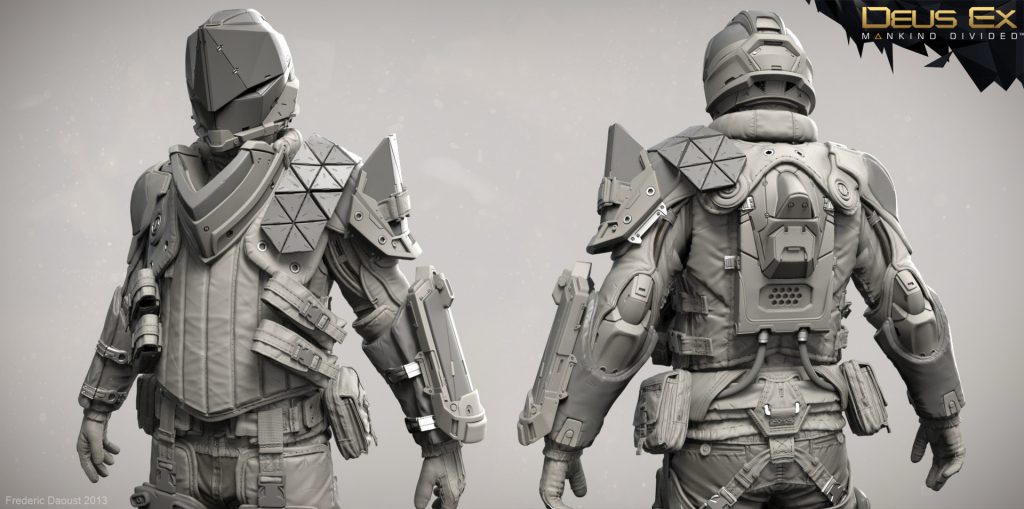 I then started my career in 2012 at Eidos Montreal, where I worked mostly on Deus Ex: Mankind Divided and I am now working at Bioware Montreal on the upcoming Mass Effect game.
Characters of Deus Ex are all about augmentations. How hard was it fill your models with all kinds of tech? 
It was quite a challenge at first, that being my first job in a studio too, I had to learn a lot about mechanical design and how to make things look functional and also animation-ready. Most of the augmentations were different from each other with different mechanisms, so it was a new challenge with each model, but a fun one!
Let's talk about your production process. How did you approach modeling stage? 
Process consisted of sketching the model at first in ZBrush,  then sending a proxy mesh to the rigger to check if everything works correctly and when the proxy is approved by the rigger, I can start to sculpt the final high-res mesh.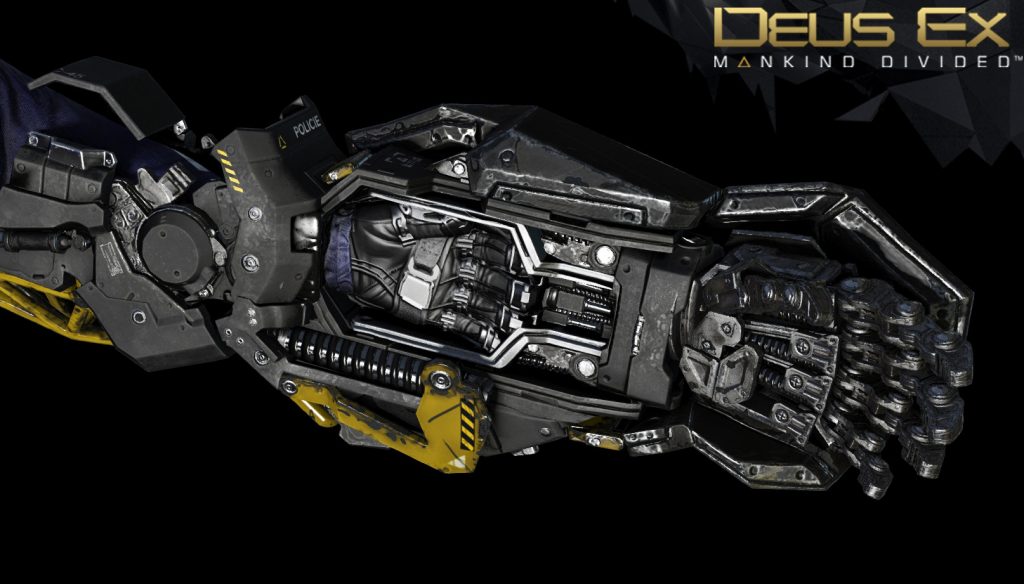 I do all my modeling in ZBrush, so for my hard surface stuff it goes like this: sketch scultpt/retopo with the topology brush or zsphere / add thickness with zmodeller or panel loop/ crease edges/ subdivide/ sculpt surface details.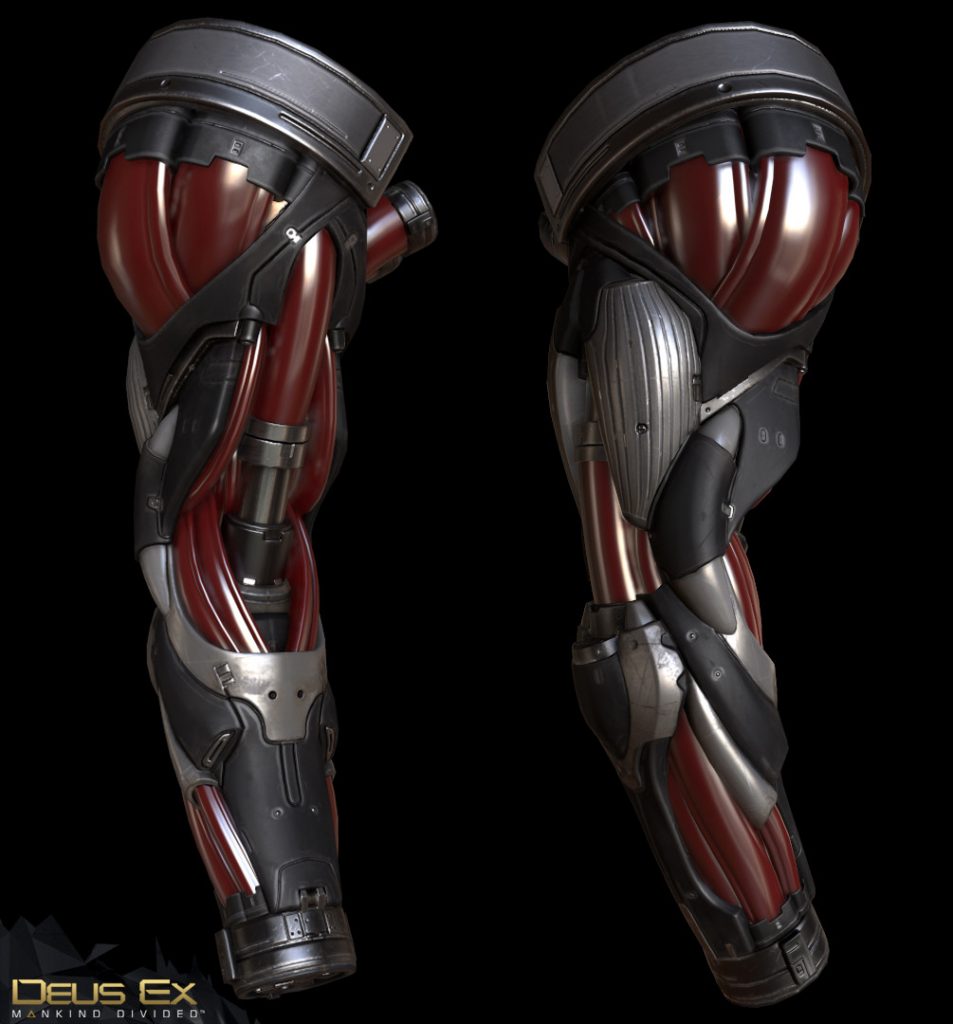 When sculpting countless elements of augmentations, did you think about functionality of these elements? Did you know about the purpose of individual details or was there another way to make them look organic and logical?
Yes, the goal was to make the mechanical stuff look believable so I was checking a lot of mechanical engineering reference and such while I was modeling. I can't say that I know the purpose of all the individual details, but all the joints needed to work in the game, so these are more likely to be functional and closer to what we would see in real life.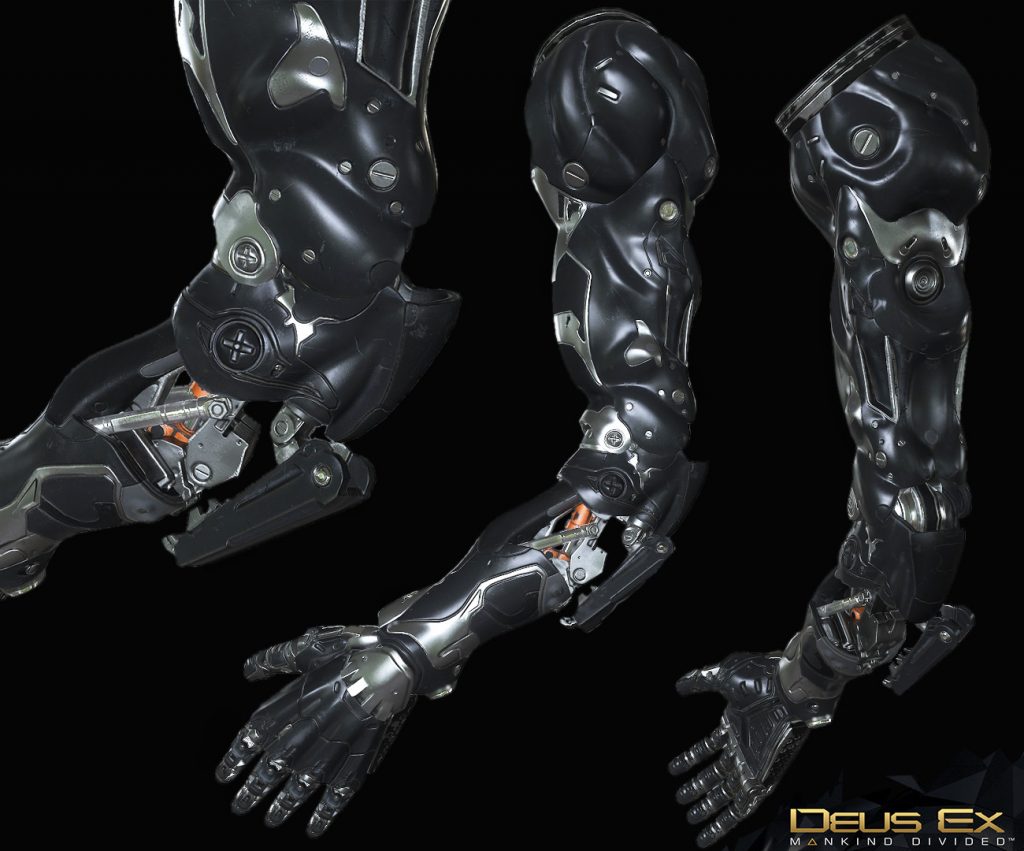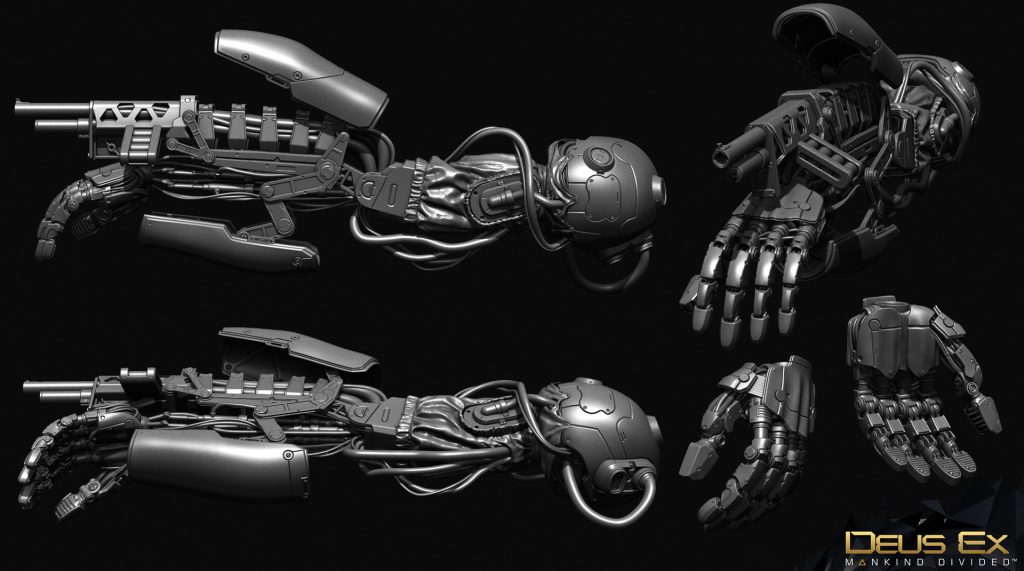 And what about the organic details? 
All these are made in ZBrush too, I use a lot of alphas when I can find a good one, or else I mostly sculpt surface details with clay buildup and dam standard.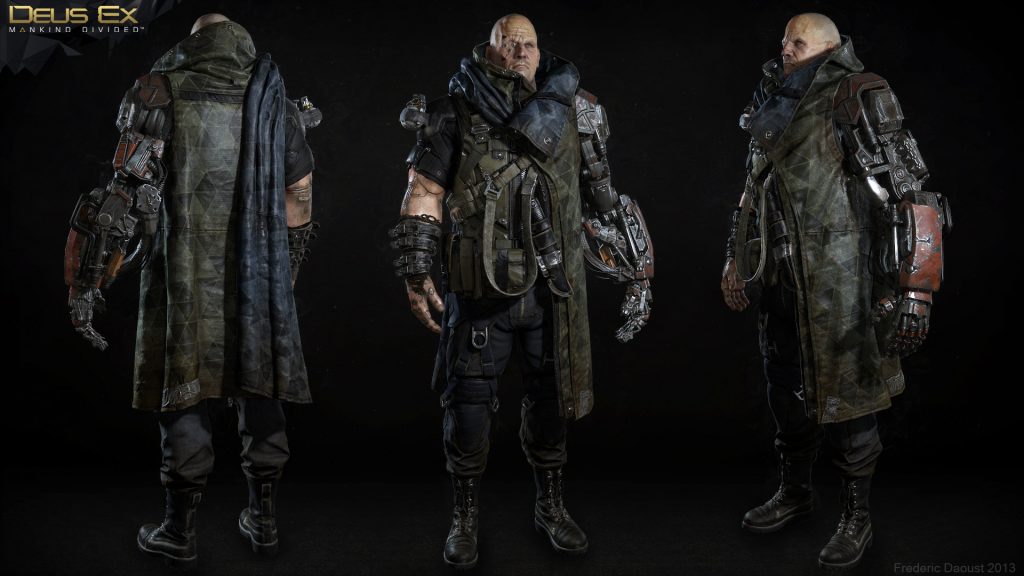 How did you model characters' clothing? 
Same thing as the organic and mechanical stuff here, sculpted in ZBrush using  a lot of references. For the folds I mostly used the standard brush and the fold brush with the dam standard to create the pinching of the cloth.
Let's talk about your texturing work?
I've always been a big fan of Quixel since the beginning of the company,  these models were made with the original dDo that is now called dDo Legacy. It was one of the first (if not the first) next gen texturing tools that was letting us make changes on all map at the same time. With all the masking presets in it,  it was such a big time saver from the traditional way of texturing.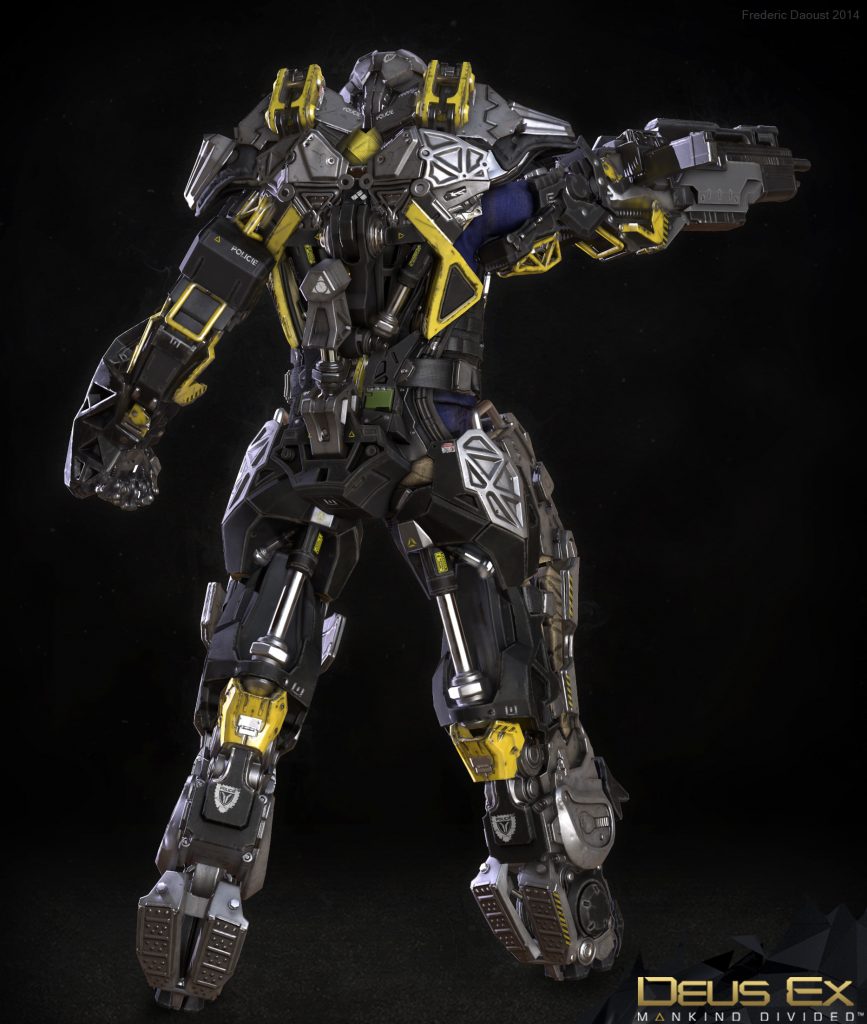 Frederic Daoust, 3D Character artist and 3D concept artist