Vendors
Weekly Newsletter
Thank you for subscription. You'll be getting weekly digest every Friday.
Events
Kyiv UA
22, Sep — 23, Sep
Valletta MT
23, Sep — 29, Sep
Tokyo JP
25, Sep — 27, Sep
San Diego US
27, Sep — 30, Sep
Latest comments
Fuck off, Ad. It cost $$$$$$$
Laura, thank you for taking the time to model the warehouse boxes. I appreciate the enginuity. This could be used for games but as well as that, for businessmen to help showcase floorplans and build site images to their co-workers and employees. I highly respect this level of design. Best Paul.
Haha.I can understand English. I am just not good at speaking. It has been a long time I don't speak English, but I can read. Anyway, thanks for sharing my artwork. Thank you for loving it.
Artistic Architecture for 3D
Clément Feuillet shared his pipeline and described some nice techniques he uses during environment production.
Introduction
My name is Clément Feuillet and I'm a French student from the ESMA school in Montpellier. I've been studying CGi for two years and work mainly on school and personal projects.
Storefront
As soon as I imagine a new project, I begin thinking about how I can improve my work and make this idea a bit better than the last one, which makes the creative process very exciting. The first challenge I dealt with on this project was a series of short deadlines that made me really concentrate on and refine my initial idea.
Start
I now always try to have a small pre-production for a project, which includes searching for references, some drawings and research on color. Previous experience has taught me how difficult it is to work without drawing or creating a draft—working without proper pre-production is much harder and slower than it needs to be!
Above: A sketch and one of my references boards
Workflow
Yes, I usually begin with Maya. My modeling method is pretty simple and works for almost every project. I kick things off with a simple "layout" scene, wherein I attempt to find the right balance between shapes, shadows and lights. For instance, I think about what objects will project shadows and how that potential dynamic could bring an interesting feeling to the overall image. Then, I apply the same thought process to the lights and shapes within the scene.
Above: Early layout screenshot; UV view; final
Details
The first thing to consider for details is references. I took a big chunk of time to get good references, which I captured by walking around Montpellier that allowed me to see how wires worked, streetlights were lit and how cables were positioned. This was really interesting and one of those simple things you can easily learn and apply to all of your future projects.
In Maya, I used CV and EP curves with the Live Surface Transform Constraint for the wires on the building. The pipes were really simple to make—I just duplicated cylinders and made the junction with a polybridge in Smooth Path Mode. By doing so, I easily and quickly saw a draft of the final results (without the junctions).
Above: Some Maya Viewport screenshots
Texturing
For this project, I was really inspired by Ghost in the Shell, Akira and some shots from the 1982 and 2017 Blade Runner films. I decided to play with those awesome universes and develop this storefront as something that draws from them. I found the concrete look incredible in Akira and recently developed a texture pack for surface imperfections based off that look, which I used throughout the project.
Mari is such an incredible software! I tried to work with 15 UDIMS in 4K for the whole storefront and it worked so smoothly—the new 3.3v1 update is really responsive for procedurals, tiled textures and much, much more.
For the workflow, I began with something procedural, just noise, and added some layers, like AO masks, moss/mold, more procedurals and finally some projections for unique details, leaking, dirt and damage.
Above: Procedural base in Mari
Above: Final storefront textures
Above: Some overlays for metallic parts, which I used as bump/roughness or masks
Above: Window dirt
Above: Shading tree for procedural rust in Renderman
Above: Dirt and wear global masks
Fog
The fog was the trickiest part of this scene! During the production, I found the scene a bit boring as it didn't have enough movement. As a result, I wanted to amplify the given movement by adding the flying papers. Also, the composition is centered and there was nothing to see on its sides. Thus, I decided to test Maya Fluid in order to add movement and atmosphere to the scene, the first simulation of which was a quick 120 Voxel Resolution.
This had a lot of emission turbulence, a low frequency turbulence field, some swirls, a high buoyancy (meaning that the smoke rises higher at a faster rate) because I was working with a single image and a dissipation set to 18. For the final simulation, I set the resolution to 415. I also separately rendered a volumetric environnement fog. Lastly, I rendered the smoke separately and then composited it in Nuke with some contrast/color adjustments.
Above: Early version of the fluid simulation (rendered)
Above: Final version of the fluid simulation for daylight and nighttime images (final renders)
Above: Viewport screenshots
Above: Some of the settings for the fluid simulation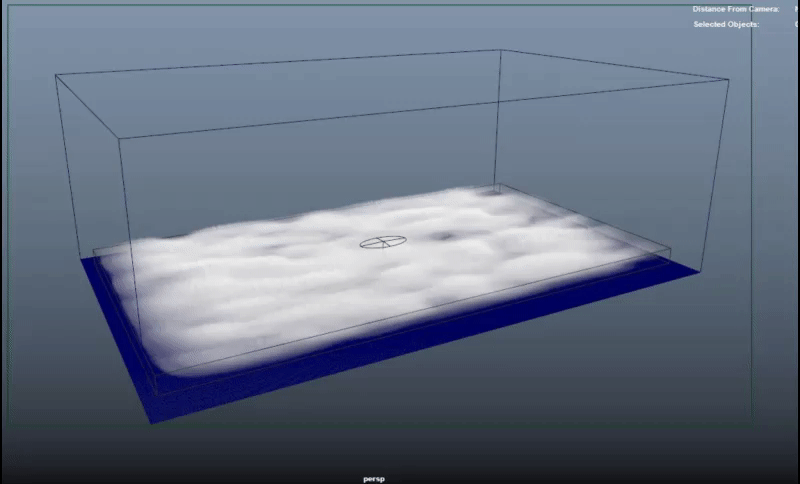 Lighting
Lighting is my favorite part of every project! Creating the right contrasts, giving colors and providing atmosphere are aspects of the scene I'm always playing around with to get the best results. I used Renderman for every light source and combined mesh light with area light to reduce noise and overexposure.
Afterwards, once the beauty's out, I go into Nuke and play with color-grading tools to escape the "neutrality" of the render in order to obtain a real temperature, which includes bright and dark colors, glow, lens effects and camera noise that ultimately enhances some radiosity that imbues the scene with a good feeling.
Above: Beauty / Final NIGHT
Above: Beauty / Final DAY
Lessons
I always learn a lot during my projects. For this one, I really developed my rendering-optimization skill with the awesome Renderman diagnostic tool!
I learned that I can go much faster than I believed, especially when modeling and texturing. At the end of the day, even when there are tight deadlines, there's always the opportunity to play and discover new things!
Thanks 80.lv for reading about my project! I hope it was a fun and helpful read. I wish you all good luck on all your future projects!