Creating Stylized Wild West Characters
Ksenia Shumikhina talked about her stylized fantasy character and creature created for Wild West ArtStation Challenge with ZBrush, Substance Painter and 3DCoat. 
Introduction
Hello! My name is Ksenia Shumikhina, I'm an artist from Russia. Last two years I've been studying 3D graphics. I participated in the development of characters for indie projects and 3D printing. At the moment I'm working as a freelancer and an online course on hard surface modeling for games.
Wild West Challenge Entry
Wild West contest is my first entry into the ArtStation competitions. For me, it was a real challenge. I have great respect for all participants, especially those who brought the work to the finals because it's a hard work that combines being an artist, a critic, and a manager. Those who have gone through it will understand what I mean. As a result, I've gained a lot of experience, inspiration and a boost of energy for my new works.
Reference
Before I start blocking, I'm looking for references. For my work, I chose a concept by Bea Castillo. It's an amazing character, with a lot of stylized details and materials. The character combines masculinity and femininity and has an unusual companion – all of this I wanted to transfer to a 3D model.
Bea Castilo has a unique stylization, and I wanted to get into her concept as much as possible, so for reference, I've used many of her other works from ArtStation. 
I also used some character images from the stylized games, mostly Overwatch. I'm a big fan of its style. 
To build the creature, I've collected references of large cats as it seems to me anatomically close to tigers and lions, though, at the same time, it has a buffalo head.
Marmoset
When the block is ready, I check the model in Marmoset Toolbag. Playing with the shader settings, you can check the proportions, the silhouette, the main volumes. It's very convenient.
Adding Details in ZBrush
Then you can start adding details. Almost all clothing was created by a sequence of masking-extract-ZRemesher. This allows you to have a good grid and switch to lower subdivisions for better control. I use the standard brushes, slightly changing their settings.
I also use layers to add details on clothes, such as seams and patches. Activated morph target keeps the original mesh and with the morph brush, you can wipe out added details.
Working on a low-poly model in 3DCoat
To create low-poly, I use 3DCoat, it's an excellent tool for retopology, mesh editing, and UVs. I often use it in my work.
My character has a lot of details and technical limitations for the polycount and textures, that's why it was not an easy task and lots of things had to be optimized.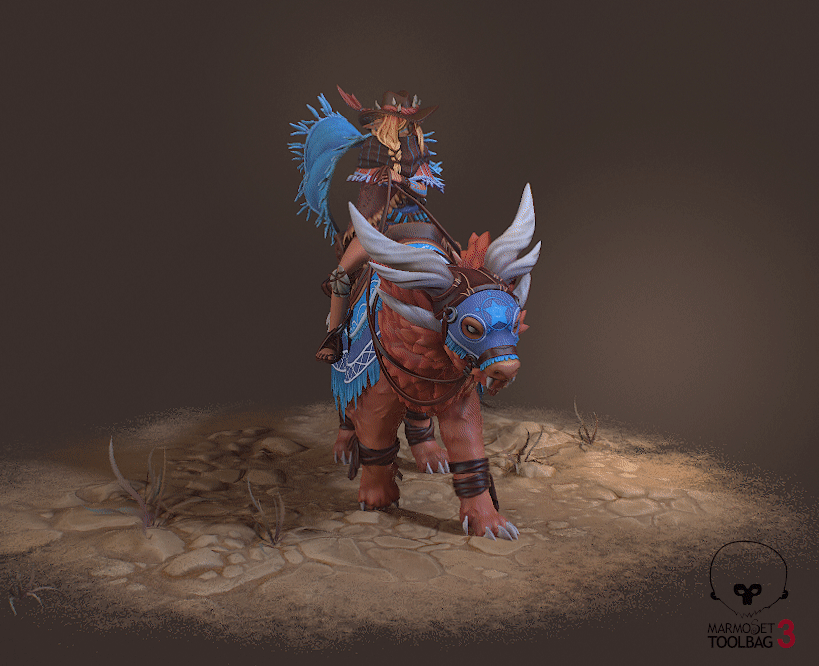 Retopology is a long and routine process, but it gives a lot of experience in understanding edge flow.
Texturing
Texturing is my favorite stage in the process of creating a character (after sculpting of course!) First, I bake maps: AO, Normal, Vertex Color – this is the base that allows you to create great textures in the Substance Painter.
For the base color, I often use Polypaint in Zbrush, then add a texture of the material, layers with roughness and metallic parameters.
In the process of texturing, I look at the concept and references of stylized characters from games and animations. I use pure colors and try to avoid unnecessary dirt.
Composition & UE4
The presentation of a model is always an individual approach. Lately, I prefer putting a character in a dark space and gradually adding light sources to illuminate it.
To set up the materials I use shaders in Unreal Engine 4, I tried others, but UE, in my opinion, displays textures of the Substance Painter more precisely.
In this work, I used the fog for the first time, and I liked the effect. It was enjoyable to experiment with it and to achieve interesting results. 
Thank you for taking interest in my progress!