Quixel Megascans: Scanning Materials for Games & Film
We've talked with Teddy Bergsman from Quixel about the company's newest release Quixel Megascans. Teddy talked about the history of the Megascans library, discussed the way materials are being produced and talked about the ways scanned materials are used in games and 3d visualisations. 
How was the whole concept of Megascans created? What were the main challenges behind the production of this tool and why was it so important for your team?
Megascans has set out to be the one-stop shop for all high-quality physically-based scans, be it full 3D scans all the way from giant objects to small debris, high-resolution vegetation atlases, tileable surfaces, sculpting brushes, scan-based 3D plants and tree systems and more.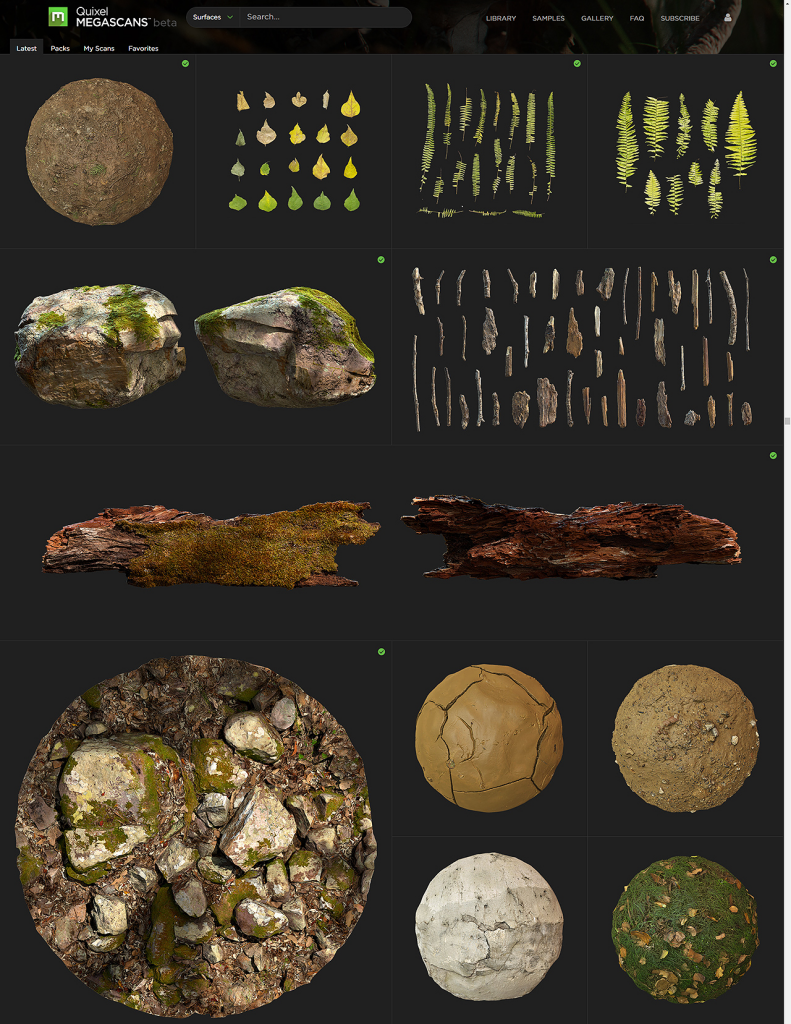 A fraction of the thousands of assets already available in the Megascans Library
Every asset is completely consistently scanned and processed, and carefully categorized into its respective real-world ecosystem for maximum ease of use in production.
Various full ecosystems, showcasing Megascans assets all available in the library
Some of the biggest challenges on Megascans specifically have been to code a completely automated pipeline that ensures 100% consistency for all scan data and to reach a critical mass of physically based content. Creating a high-performing and simple online platform was also a major challenge for us, along with the new stand-alone art production tools that are coupled with the Megascans service.
As for how the whole concept was created, the first prototype of the Megascans material scanner came about around 10 years ago. It was mainly for personal use, to learn about material properties, and to scan various surfaces for a commercial project I was working on at the time. A few years later I built a face scanning system based on the same technology, and worked for a brief period in LA to scan actors for various projects, which is where some of the early ideas for a massive scan library were sparked.
Test face scan using an early prototype scanner, 8 years ago
This was my first time there, and one day the director's assistant on the project took me to visit a "prop house" — a giant warehouse stacked with any prop you could possibly think of for set dressing. This place had a very big impact on me, and the thought of creating a large library of scanned materials for the CG industry started forming. I've long felt strongly about the importance of scan data for photorealistic productions, and my passion both as an artist and developer has always been to find the fastest and most fun workflows to work with scans.
Dry Grassland Ecosystem, 100% Megascans assets
After a lot of consideration and some convincing from colleagues, in 2011 I made the decision to start a company. I wanted to go back to the original idea of making a pure material scanner, also building an automated processing pipeline around it. My colleague at the time, Waqar Azim, who happened to be a much more skilled hardware engineer than I ever was, joined me to co-found what came to be Quixel.
Teddy and Waqar, present day (co-founders of Quixel)
Going a bit behind-the-scenes, one of the biggest challenges starting out was having virtually no savings whatsoever. In an attempt to fund the company we set out to take a couple of Photoshop-based texturing tools I had hacked together many years back for my own freelancing needs, and to turn them into something commercially viable (ndo and ddo). Releasing something in a very short amount of time in order to survive as a company involved many practical and mental challenges. And mistakes. So many mistakes. Once, on a quest to pick up basic office supplies shortly after starting the company, I broke both arms crashing my bike, and thus the first Quixel software release (nDo2) was coded with two broken arms — there was literally no other choice!
Thankfully, nDo2 was very widely adopted, and effectively helped build the company thanks to a booming community. We finally had enough funds to hire our first employee, Wiktor Öhman, and I set out to create the next series of tools, with Wiktor creating cool art and tutorials to showcase the technology. The series of new tools that followed (ddo, 3do and Quixel Suite in many iterations) were adopted by tens and thousands of users, and there was a lot of hard work and practically no sleep for years to keep up. Following every GDC event was a tour of 50 or more studios, to gather feedback on the tools and to build more personal relations with the artists using them. I was still the only developer on the team, but as the tools' user base grew, so did eventually the Quixel Megascans team.
The early days of Quixel: Waqar, Teddy & Wiktor setting up their first small booth at GDC
Staying true to the vision, every penny that came into the company went directly towards Megascans development. Building the Megascans team, scanner hardware, data processing tools, web backend and frontend, promotional materials, and scanning tens of thousands of things on four continents on top of so much else, have all been insane challenges, but this is our true passion. I've personally spent more than a third of my life building Megascans, and it is literally all I do and ever want to do, and this goes for everyone on the team. Quixel is now 50 people with offices in all corners of the world, and I'm incredibly proud of what we are accomplishing as a team.
Quixel at GDC, two years later
Right now Quixel is growing at a very quick pace, and we are constantly scouting for brilliant engineers and artists to join the team. If you are deeply passionate about scanning, creating photo-realistic art and/or advanced shader/C# programming, we're always up for a chat.
Megascans is constantly growing and getting more and more content out there. I'm really interested in how big are you going to grow this project?
Megascans currently contains thousands of scans, and we have strived to build an architecture that enables the library to grow very quickly beyond this. What is currently up on the site is a fraction of what has been scanned, and we will be unlocking nearly every category imaginable as we continue to roll out our beta updates.
We scan, process and upload a large amount of new scans every week, and will expand the library tenfold in its first year. The vision is to eventually provide every major biome, vegetation species and material category on earth, and to serve everything in a highly-accessible and artist-friendly manner.
For example, in the 3 first weeks since the release of Megascans, we have added over 3,000 vegetation specimens and over a hundred 2×2 m surfaces, on top of releasing the first batch of 3D scans from the upcoming volcanic Lava Field ecosystem. On the subject of updates, another addition are the new Megascans Studio and Megascans Bridge standalone tools for PC and Mac, for which we're releasing upgrades on a weekly basis.
In terms of growth, we are only getting started, and the rate of updates will accelerate shortly. Asset quality is also increasing rapidly as we constantly improve the pipelines and scanners, and the 2.0 library that we've been preparing for the past year starts to roll out very soon which will introduce a significant quality increase to all new assets.
If you can, please give us a little background on the way you are building these amazing scans? How do you approach this process, what are the technical limitations, how do you get these incredible results? Are there a lot of people, doing all those amazing photos?
We build all scanners, data processing pipelines and tools in-house. The core tech is very unlike typical photogrammetry pipelines, and is the product of many years of R&D. There are currently around a dozen scanners distributed amongst our scanning teams around the world, and most machines are purpose-built for specific types of scanning. We're constantly building more and improved versions of these scanners.
The majority of the machines are part of a fully automated pipeline I wrote over the past 6 years in parallel with writing the Quixel Suite of tools. Everything from scanning to processing to online serving has been automated. This pipeline allows us to scale easily and cater to high demand, as we are able to acquire and provide a great deal of scan data very quickly, which is a very important aspect of Megascans.
Going through your docs, we've figured that part of the process is that the photos are being taken at night, so that you could maintain the kind of lighting that you really want for your product. What was the reason for going into such troubles? Why is it impossible to do something like that on your own with a phone?
For Megascans consistency is paramount, and to the biggest possible extent possible all assets are scanned under completely controlled conditions with purpose-built technology, with no external light or reflections interfering with the capturing, to ensure that we capture completely clean and calibrated albedos. Capturing dependable albedo data for physically based rendering pipelines is not the easiest of things to do, and is something we are continuously striving to master. You can capture cool results with just a phone or preferably a high-end camera in broad daylight, however as we have set out to create albedos that are accurate and contain no specular reflectance we try to avoid destructive delighting and post processing at all costs.
How well optimized are the assets provided? A lot of people are asking about whether these could be used without additional optimization? Can they be used in games out of the box?
Every single 3D scan in the library comes with a large number of LODs all with normal maps baked specifically for each LOD, to ensure the asset can be used in many different contexts — all the way from high-end cinematic VFX and AAA games, to highly optimized VR and mobile applications.
We have gone to great lengths to ensure the library is accessible to everyone, regardless of technical limitations. It's very much 'plug and play'.
Another question many people have is how deep into customization can you go? What can you change in these materials?
We've worked very hard to ensure that the level of customization with Megascans is incredibly high. Not only can you customize your download (max polycount, amount of LODs, file format, which BRDF you are targeting, which maps you want, what map resolution etc) for any asset, but the library also ships with a powerful standalone software called Megascans Studio, which allows you to actually customize the scan data pretty much however you like.
Customization is very important aspect of Megascans
You can blend multiple scans together, create super large custom tileables, or completely change the properties of the material to fit your needs, and export your final result in a highly customizable manner.
Megascans Studio enables a high level of customization through a very artist-friendly UX
Snow environment in UE4 by Eoin O'Broin, using Megascans in very creative ways
It's incredibly fun to see artists being so creative with the tools and scans. The scans have incredibly rich surface properties, which can be used and combined to create virtually any other surface using Megascans Studio.
Realistic ice surface made using a combination of mud surface scans
Going back to your clients, who's using Quixel Megascans already? We've seen info that Capcom, Unity, AMD are using your assets. Are we going to see more of the assets used in games?
In the first three weeks of release alone, we have seen a quite massive adoption of Megascans among studios. Every major game publisher and all of their studios are now integrating Megascans into their pipelines, and we are seeing a big adoption in the film industry as well, with the automotive and ArchViz industries also being quickly on the rise as big Megascans adopters.
Unity Technologies have chosen Megascans to build their next-gen demo environments
A great deal of schools are also picking it up, and we have seen several Megascans masterclasses getting kicked off already. Since release, the Megascans community now also comprises thousands of indies, freelancers and hobbyists creating the next generation of environments.
Student Fernando Gutierrez created this scene for an ArchViz masterclass at State of Art Academy
Currently around one hundred additional studios across these industries are signing long-term deals, and there will be many big franchises using Megascans for upcoming games, films and commercials. The most recent major film release that used Megascans heavily was The Jungle Book, which used Megascans for its many jungle environments.
Shot from The Jungle Book, which was one of the first Megascans based productions to be released
We are currently collaborating on a number of exciting projects with studios and companies we have great respect for, and look forward to revealing more about these partnerships soon.
What should we expect from Quixel Megascans in the future?
The major updates we are adding next are very big cliffs, high fidelity bark tileables, a new breed of large surface scans, dozens more volcanic rock assets, full 3D vegetation and trees, fabrics, woods, metals, rusts, snow, asian foliage and a wide range of ArchViz specific scans.
Man-made surfaces are coming up
We are expanding the library quite heavily and are also listening very carefully to requests from our community and clients as we set our scanning and processing priorities. In addition to library updates we are also adding quite a lot of features to Megascans Studio, which will also soon include a fully 32 bit processing pipeline and Linux support, and a slew of new useful tweaking options, as well as full 3D painting.
Fully 3D scanned vegetation for games is next up for the Megascans library
A vast amount of highly detailed fabrics will soon be unlocked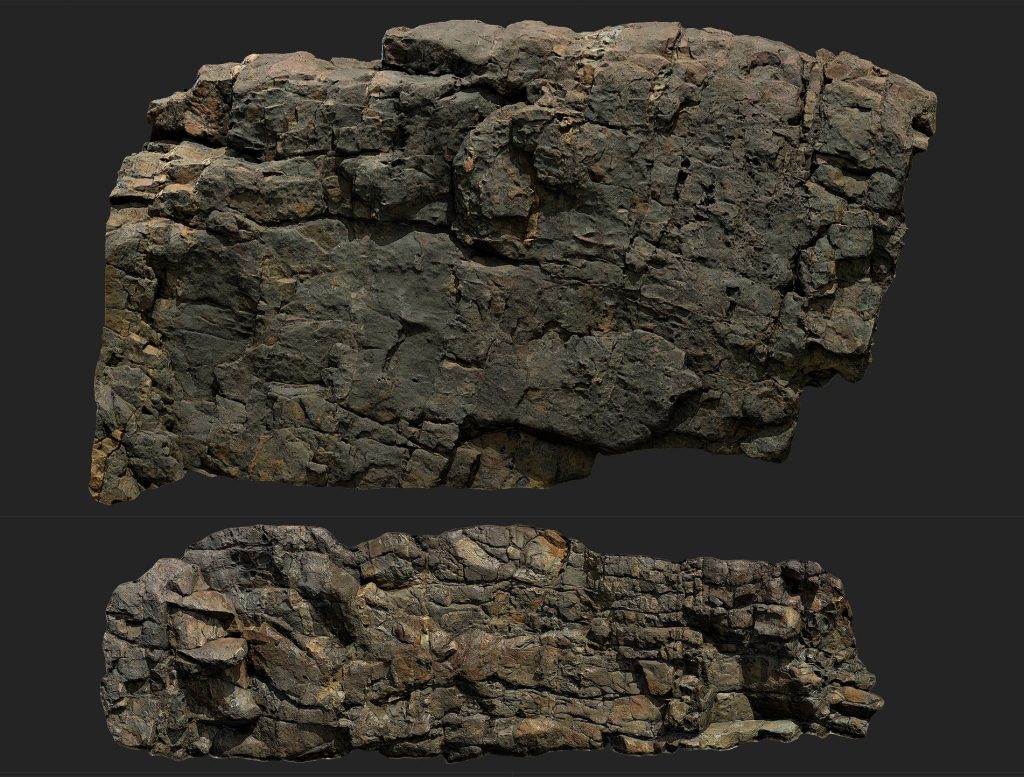 Huge cliffs are in the works
Apart from updates to the service itself, we have also entered into a series of partnerships for integrating the Megascans library in a wide range of major applications, and will reveal more about this as we go.
Attention to detail is a core component of the Megascans library
We are incredibly excited to finally have Megascans released and to see it get such a massive adoption. We'll continue to do our absolute best to roll out the updates our customers request the most frequently, adding a large amount of new assets every single week, throwing in a few surprises both in terms of library and tools along the way.
Interview conducted by Kirill Tokarev.