Vendors
Weekly Newsletter
Thank you for subscription. You'll be getting weekly digest every Friday.
Events
Austin US
9, Mar — 19, Mar
San Francisco US
19, Mar — 24, Mar
San Francisco US
19, Mar — 21, Mar
Anaheim US
23, Mar — 26, Mar
Latest comments
Donald Trump, insulation is a seamless wall with airpockets. Ceilings can be printed using a re-enforcing scaffold for support. Try googling info..
Really awesome work and the tutorial is fantastic. Thanks for sharing.
Absolutely no information about the 4.2 release - was it ever released in September. There is about as much information on trueSKY as there is in any of the so called products that use it. For me this lack of transparency is killing there business and points to fundamental issues with the technology. Google trueSKY in YouTube and you'll hardly get any information at all. For such a ground breaking technology this is very suspicious. Do they not have a marketing team - do they even care? Sounds like a very small company which wishes to remain small and doesn't understand what they can become because with the technology they have they should be targeting a bigger profile, revenue streams and audiance than they have and the lack of foresight here with the Simul management is quite frankly very disapointing. Another 10 years could easily disapear for these guys and they will simply remain a small fish. Very sad.
Houdini Digital Asset - Procedural Montreal House
Lucie Lescuyer has published a post on a tool she made with Houdini to create Montreal type houses used as a digital asset in Unity. The tool features parameters to change the size of the house and each module (balconies, doors, windows and other), their placements and colors.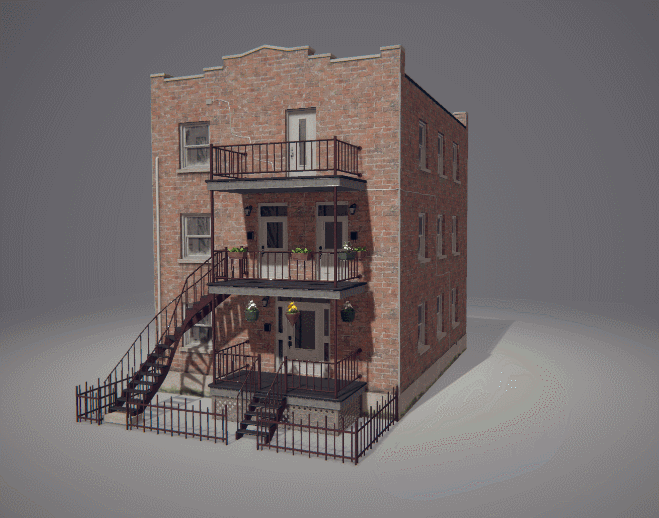 The tool can also replace modules with external ones generated in other tools. One of the main things here is the ability to control the procedural UVs of the body of the house, how they adapt to the size changes, and how the height of the modules adapt to the number of bricks on the house material.
The artist created textures in Substance Designer with custom shaders created in Shaderforge to allow vertex color tint on base color.
MODULAR UV:
As the house is built by stacking one floor on top of each other, each one can be separated, which will make the unwrapping part a little easier.
I wanted each floor wall to match it's height size to the 0-1 V space in the UVs (see image below). This way the texture will tile seamlessly between all the floors.
To achieve that, I used a for-each-loop to unwrap each primitive alone, this way I can have all my UV shells stacked on top of each other. Still It was not aligned to the top of my UV space (see image below). I needed to find a scale factor for my UVs to make them fit perfectly.
What I decided to do is isolate one wall UV shell, get the coordinates of it's top point. If I divide 1 (which is the max value of the UVs V space) by the coordinate in V of this point, I get the scale factor needed to scale my UVs.
For example if the V coordinate of the top point of my UV shell is 0.7, the scale factor of the Uv would be 1/0,7=1,42xx.
 You can find more details on the tool
here
.