Vendors
Weekly Newsletter
Thank you for subscription. You'll be getting weekly digest every Friday.
Events
York US
26, Mar — 29, Mar
Boston US
28, Mar — 1, Apr
Anaheim US
29, Mar — 1, Apr
RALEIGH US
30, Mar — 1, Apr
Latest comments
This is amazing! Please tell us, What programs where used to create these amazing animations?
I am continuing development on WorldKit as a solo endeavor now. Progress is a bit slower as I've had to take a more moderate approach to development hours. I took a short break following the failure of the commercial launch, and now I have started up again, but I've gone from 90 hour work weeks to around 40 or 50 hour work weeks. See my longer reply on the future of WorldKit here: https://www.youtube.com/watch?v=CAYgW5JfCQw&lc=UgxtXVCCULAyzrzAwvp4AaABAg.8swLeUjv7Fb8swt1875FAT I am hard at work with research and code, and am not quite ready to start the next fund-raising campaign to open-source, so I've been quiet for a while. I hope to have a video out on the new features in the next few weeks.
Someone please create open source world creator already in C/C++.
Houdini Digital Asset - Procedural Montreal House
Lucie Lescuyer has published a post on a tool she made with Houdini to create Montreal type houses used as a digital asset in Unity. The tool features parameters to change the size of the house and each module (balconies, doors, windows and other), their placements and colors.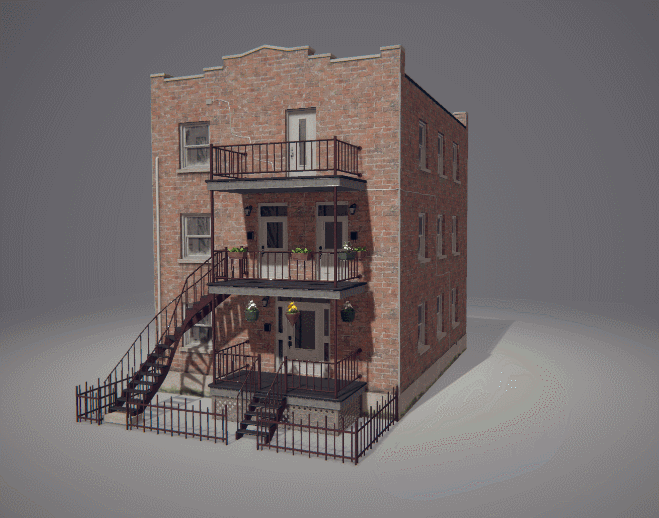 The tool can also replace modules with external ones generated in other tools. One of the main things here is the ability to control the procedural UVs of the body of the house, how they adapt to the size changes, and how the height of the modules adapt to the number of bricks on the house material.
The artist created textures in Substance Designer with custom shaders created in Shaderforge to allow vertex color tint on base color.
MODULAR UV:
As the house is built by stacking one floor on top of each other, each one can be separated, which will make the unwrapping part a little easier.
I wanted each floor wall to match it's height size to the 0-1 V space in the UVs (see image below). This way the texture will tile seamlessly between all the floors.
To achieve that, I used a for-each-loop to unwrap each primitive alone, this way I can have all my UV shells stacked on top of each other. Still It was not aligned to the top of my UV space (see image below). I needed to find a scale factor for my UVs to make them fit perfectly.
What I decided to do is isolate one wall UV shell, get the coordinates of it's top point. If I divide 1 (which is the max value of the UVs V space) by the coordinate in V of this point, I get the scale factor needed to scale my UVs.
For example if the V coordinate of the top point of my UV shell is 0.7, the scale factor of the Uv would be 1/0,7=1,42xx.
 You can find more details on the tool
here
.