Weekly Newsletter
Thank you for subscription. You'll be getting weekly digest every Friday.
Events
Orlando US
24, Jul — 27, Jul
Grapevine US
25, Jul — 29, Jul
Los Angeles US
28, Jul — 29, Jul
Los Angeles US
28, Jul — 2, Aug
Helsinki FI
1, Aug — 5, Aug
Latest comments
PaydayAlabama offers payday loan services to the people of Alabama and nearby areas who are in need of fast cash immediately. We provide instant approval, hassle free cash loans. Just fill the online application form and get cash loan just by sitting in your home. For more information visit http://www.paydayalabama.com/decatur-al/
I think you were mostly just narrating your career story in this post instead of any teaching or tips. Anyways thanks.Ang good Luck
А по русски кирилл не мог подкаст сделать?
Making a Stylized Wild West Environment
Introduction
Hey! My name is Bart de Vries, I'm an Environment 3D Artist. Since the last previous interview not much has changed. I'm still working here at elite3d  in Valencia, Spain. Can't say much on what I've worked on so far as it's all under NDA. I've been focusing on environment art creation and prop workflow. For work, the projects were mostly realistic and for personal – stylized.
Check out Bart de Vries's previous article Stylized Take on Environment Building here.
Direction
Most of my professional work revolves around realistic PBR assets I wanted to start another personal project to improve my lighting and asset workflow for stylized PBR assets. As I didn't start with a concept from the first part of the ArtStation Challenge, I only had an idea in mind. Just a cozy campfire with a tipi tent and some props. The rest of the process regarding colors and general look came along the way. I tried to complement the other assets with each new asset I placed. It was tough at first because nothing was nailed down yet and I'm quite unfamiliar with concepting assets myself. Luckily I have a couple of friends who gave me a lot of advice during the process and that helped me a lot with getting to the result.
Production
For my general asset workflow, I usually start with a low-poly block out made in Maya and then take it into ZBrush (when needed) to detail it and change the shape and proportions. After the detailing is done I'll take it back to Maya and re-topo the mesh or adjust the block out mesh to fit the new shape.
Final detail I add in the textures. For example, the paint on the totem was done in Substance Painter. I usually don't put these kinds of detail in my sculpts.
Materials
For most of the assets, my material workflow is getting a solid base in Substance Painter with all the maps baked from the high poly. A very nice Smart Material was created by Luis Armstrong. Make sure to check out his work! He's a solid member in the community and shares his workflow with those who wish to learn.
This smart material only affects the Diffuse map so take care to also adjust other maps (if you wish to keep it PBR).
Cloth
Trying to get the right look for the tipi was one of the hardest and time-consuming parts of the scene. It had to feel like thick leather hides and have some nice weight to it while being lit from the inside. I went over quite a few material iterations to get it where it is now and I'm still nowhere near the result I am satisfied with. I started off with a base shape and made a crude sub-d model out of it. Then I imported it into ZBrush to sculpt on and added a bit more weight and softness to the cloth of the tipi by masking out the center areas with a very soft mask and then scaling it down to get the right shape.
After playing around a bit with the tipi I ended up with this design, but it didn't feel just right yet in terms of weight and sagginess. Everything was still too straight and stiff.
I ended up dragging down the extra embroidery to get it to the final result.
I have to say that the final result of the tipi is not completely optimized and I cut some corners in terms of production.
For the dress, I made a block out in sub-d in Maya and used Maya's nCloth simulator to drape it over the sitting log I made before. Because it was going to be folded over the log anyway, I didn't have to bother too much about it being an accurate shape and size. Only the core details and shape of the design were there.
Lighting
Lighting was a fun challenge for me. I was struggling around with it a lot at the beginning of the project where I didn't fully know what everything was going to be. I looked a lot at the lighting of the environments in the previous ArtStation contests and one of the most common themes was a clear focus light on a centerpiece. Specifically the volumetric god-rays. So as you can see in my early images of the level I already started to experiment with what I could do with them. For the main volumetric god-ray I have in the scene I followed this tutorial by Dave Wilson. After getting feedback from some of my friends I decided to add the moon into the scene as well to give a clear cause of a directional light. The moon was made following a simple but effective tutorial from the Blueprint Games channel. I changed the texture for the moon to fit the style of my scene a bit better, but overall it's the same.
One of the tips I got from a friend and colleague was to change the lower hemisphere color in the skylight details to blue. This helped to change the shadows from black to dark blue. The shadows are never completely black.
The tipi itself has an emissive map and a modified material that causes flickering intensity. There are two spotlights inside the tipi as well. One aimed up with no shadows and another aimed towards the entrance.
As you can see I have quite a lot of lights in the scene. None of the point lights are casting shadows though. Except for one that is in the fire. There are some extra spotlights in the scene that are affecting only a couple of meshes: two orange spotlights on the totem and the cowboy hat. I added the spotlights there to give some extra emphasis on those assets. There are also two spotlights in the back. One of them is aimed at the totem to give an extra blue rim light to make it pop more from the background. The other to light up one of the bigger rocks in the background (not the one all the way in the back).
A lot of lighting knowledge I gained came from the Unreal Lighting Academy videos. They were a great help in pushing the scene to its final lighting.
Another great tip I can give you which helped my scene a lot is a ColorLookupTable (LUT) texture. As playing with the post process volume sliders is a bit unintuitive inside Unreal, making a LUT texture in Photoshop and then importing it into the post process volume works wonders. Here you can find the documentation on how to go about a LUT texture for UE4. Below are two images of my scene, the first without the LUT texture applied and the second with it applied. As you can see I greatly pushed the saturation and levels in the scene which helped to light the scene a lot better.
Time Management
Managing a deadline like this pushed my dedication to the project a lot. The last time I joined an ArtStation challenge I was still a student and could spend all the time I wanted on the project. However, this time I had to do it beside my full-time job and other responsibilities. This is also one of the reasons why I chose to do a smaller environment with not too much in it. This made it possible to focus on the things I needed to have in the scene. Early on I made a spreadsheet containing the assets that I needed to have in the scene to tell the story and those that were optional. Along the way some things changed and a couple of assets that were originally not planned as 'must have' were added to fit the current image, while others were removed. Also during my lunch breaks at work, I would work on some of the smaller props in the scene. This allowed me to make another small prop per 1,5 week or so. Stealing time wherever I could to do some small things for the project added up to quite a lot over the two months of the challenge.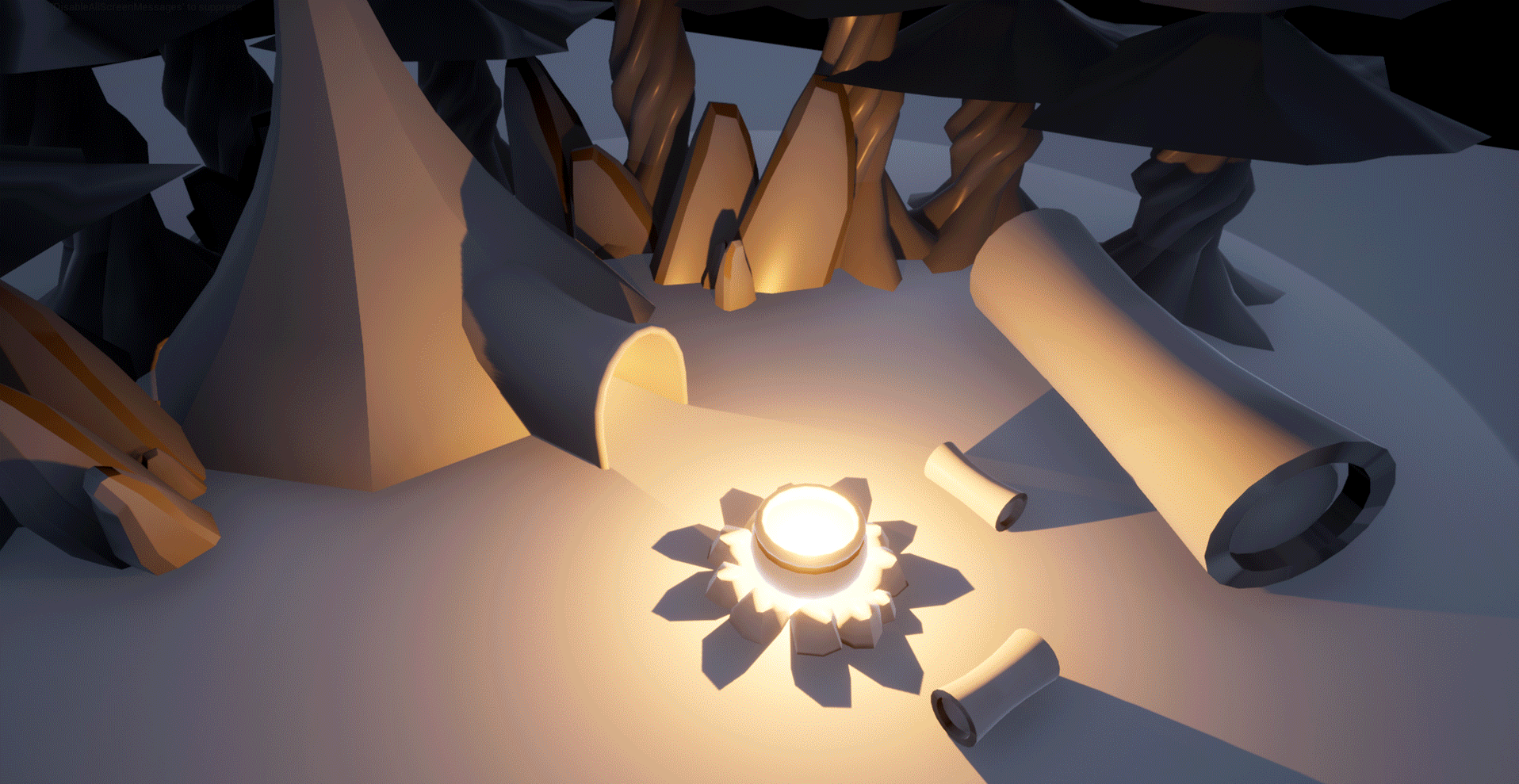 Overall I didn't have much of a proper production planning and I cut so many corners I would never get away with in the professional production, but the final result was there. That's what mattered more to me: finishing a personal project within the given deadline.