Weekly Newsletter
Thank you for subscription. You'll be getting weekly digest every Friday.
Events
Cologne DE
20, Aug — 25, Aug
Vienna AT
23, Aug — 25, Aug
Anaheim US
27, Aug — 30, Aug
SEATTLE US
30, Aug — 3, Sep
Vancouver CA
4, Sep — 7, Sep
Latest comments
ArtStudio is just too good not to leave a review for. I've been using Photoshop on my PC for drawing, photo editing, and professional work for the past six years and when I finally got an iPad with Apple Pencil support I was really hoping Procreate or one of the numerous other drawing/editing apps would be able to replace the feel of PS. Unfortunately, even though Procreate is indeed an amazing drawing program, it still doesn't really satisfy my need for the familiar feel of photoshop and drawing with photoshop brushes. ArtStudio Pro solved all my problems. It's got everything you could need and MORE (I especially love their amazing smoothing/line weight algorithm and pressure customization). It's basically Photoshop, but without having to pay the ridiculous Adobe subscription every month. The price for this app is perfect, in my opinion (and honestly it's even a bit low, for all it's able to accomplish) and I really want to give a huge thank you to everyone who worked on/is working on this app and updating it. You've saved me so much money and frustration. Hats of to you!
Pretty good post. Thanks to blog author for the wonderful and informative post You may also read the website - http://www.coloradoloansnearme.com
A servo stabilizer is a servo motor controlled stabilization systems that performs optimum voltage supply using a buck/boost transformer boost that captures voltage fluctuations from input and regulates current to the correct output. For more informetion us : https://www.servostabilizer.org.in/what-is-servo-stabilizer
Texturing a Scene With Photoshop
Najim Filali and Patrycja Skrzynska discussed the way they created a simple and incredibly well-lit scene in the swamps.
Introduction
Mainly, we wanted to gather our skills and create something fresh and attractive. But also to challenge ourselves, and of course work together, something that we have always wanted to do. A 3D Artist can work easier and achieve better results with a Concept Artist.
Patrycja Skrzynska: For my part, I wanted to see his interpretation of the way I work.
Najim Filali: I wanted to base my environments on her concepts by bringing an own interpretation and good looking mood by adding my own personal touch. 
Composition
Patrycja: In my concepts the composition of the project is telling a story, an unclear story, but every person could see it by their own way, «Is there a man living inside?» or «Is the house been abandoned someone?» or anything else. I've always been interested in different visions for only one project. And «The Swamp» gave us that freedom.
Najim: The fact that the concept arts of Patrycja let me have many freedom to tell a story was pretty nice, I did my best to have the mood of the environment as main focus, for that, lighting and texturing helped me a lot, it is one of the main reasons I wanted to make out of the concepts a stylized Environment.
Production
It is one of the first time I did a really basic blockout for this scene (normally blockouts are one of the things I push the most) , the concepts helped me a lot to imagine the final scene I had in mind.
The main thing I started was the cabin modeling, it was the asset that helped me test out some texturing art direction.
I really wanted to push that stylized look, I used some of my favorite brushes and filters to achieve those kind of results, the Median Filter was pretty useful to achieve some nice effects. For the normal maps, I baked every asset with their high poly version, depending on the asset I used Zbrush or 3ds Max.
For more variety and to break tilling , I used some vertex color and material blending inside of Unreal.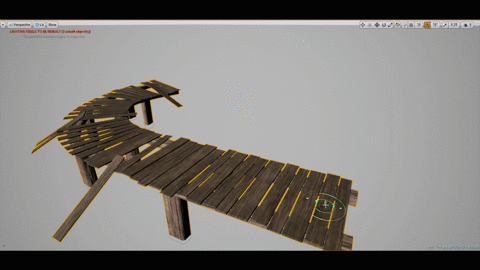 I first tested many different kind of moods with lightings, like I said, lighting and texturing was the most important thing for this environment.
A Good skydome and some well placed lights helped to achieve those results.
Some feedbacks of patrycja helped me on the mood with things like the ground , and some assets.
Patrycja: we worked in our spare time, and we shared ideas and advice. We didn't have to worry about the artistic direction and the final rendering, we know each other's capacities and desire to bring something powerful and fresh to our portfolios.
Vegetation
I modeled the trees with Speedtree , speedtree was really a go for tool since it allowed me to have a well optimized scene, and non destructive pipeline for the making of trees.
For the grass, I used some Megascans' vegetation, their models were pretty nice and with my own texture, it helped me achieve the mood I wanted on the global environment.
Textures
I have the pleasure to work next to some people who had worked on games like Dishonored, I could gather as much tips as possible on the texturing process with Photoshop only.
Screenshot of the Door Texture:
Every texture was hand-painted in Photoshop, I used Marmoset Toolbag to easily preview every PBR channel (each channel was saved in .PSD format, every save was an automatic asset reload inside of Marmoset).
You can see on the door textures some effects that I achieved by using the Median Filter inside of photoshop, it gave me good results.
For all the textures it was really the same pipeline, texturing inside of photoshop, trying some effects with brushes, trying some photoshop filters (sharpen , noise , etc) previewing inside of marmoset and exporting to Unreal Engine.
The most important thing with texturing is the gathering of good references. No matter which software you use, if you don't reference yourself, if you don't train your texturing skills, you will never achieve good results.
Lighting
I tested different kinds of lighting moods, with some simple Spotlights, Directional lights and light points.
This environment was a good way to exercise some texturing tricks I will for sure use on my upcoming environments.
I would like to give a special thanks to Ayi Sanchez, Yannick Gombart, Axel Tillier , Damien Peinoit and Geoffroy Calis for the great feedbacks they gave me , they helped me a lot with some artistic issues , and gave me motivation for me much motivation for my upcoming environments.
Najim Filali, Environment Artist at Krysalide France